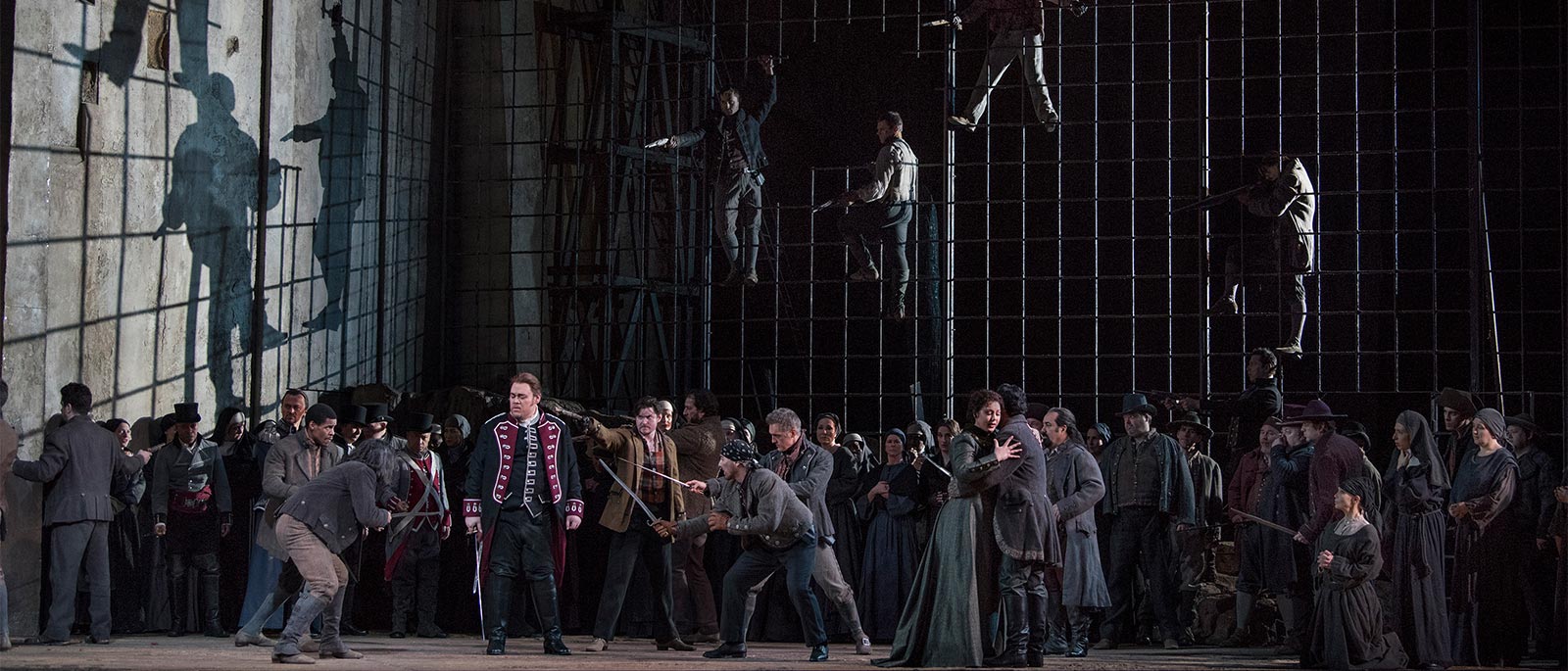 Giuseppe Verdi
Il Trovatore
This production ran: Jan 1 - Dec 31
Overview
These performances and the entirety of the 2020–21 season have been CANCELED based on the advice of health officials who advise the Met and Lincoln Center. For more information and to review your options if you purchased tickets for any of these dates, read the complete announcement.
A remarkable cast takes the stage in Verdi's supreme showcase of Italianate singing. Soprano Sonya Yoncheva makes her Met role debut as the passionate young noblewoman Leonora, with tenor Russell Thomas as the outlaw Manrico and baritone Ludovic Tézier as the menacing Count di Luna. Mezzo-soprano Anita Rachvelishvili reprises her astounding 2018 turn as the mysterious and vengeful Gypsy Azucena. Michele Mariotti conducts Sir David McVicar's action-packed production.
Co-production of the Metropolitan Opera, Lyric Opera of Chicago, and San Francisco Opera Association
Production a gift of The Annenberg Foundation
Revival a gift of Rolex
Languages
Languages sung in
Il Trovatore
Titles
Title languages displayed for
Il Trovatore
Met Titles In
English
German
Spanish
Italian
Timeline
Timeline for the show,
Il Trovatore
Estimated Run Time
2 hrs 47 mins
House Opens

Acts I & II

69 mins

Intermission

32 mins

Acts III & IV

66 mins

Opera Ends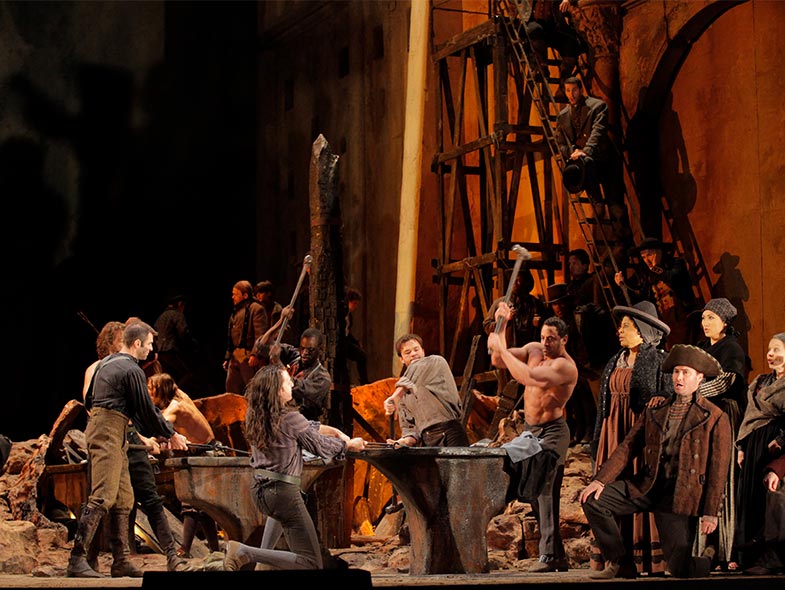 World premiere: Teatro Apollo, Rome, 1853. Met premiere: October 26, 1883. Verdi's turbulent tragedy of four characters caught in a web of family ties, politics, and love is a mainstay of the operatic repertory. The score is as melodic as it is energetic, with infectious tunes that are not easily forgotten. The vigorous music accompanies a dark and disturbing tale that revels in many of the most extreme expressions of Romanticism, including violent shifts in tone, unlikely coincidences, and characters who are impelled by raw emotion rather than cool logic.
Creators
In a remarkable career spanning six decades in the theater, Giuseppe Verdi (1813–1901) composed 28 operas, at least half of which are at the core of today's repertoire. Salvadore Cammarano (1801–1852) was one of the foremost librettists of his day. He collaborated with Donizetti (Lucia di Lammermoor, among others) and wrote the text for La Battaglia di Legnano and Luisa Miller for Verdi. After his death, the Trovatore libretto was completed by fellow writer Leone Emanuele Bardare (1820–after 1874).
PRODUCTION
Sir David McVicar
SET DESIGNER
Charles Edwards
COSTUME DESIGNER
Brigitte Reiffenstuel
LIGHTING DESIGNER
Jennifer Tipton
CHOREOGRAPHER
Leah Hausman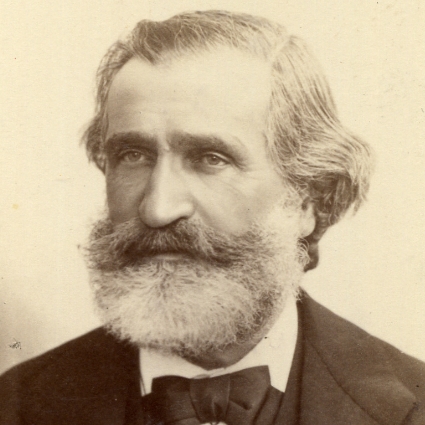 Setting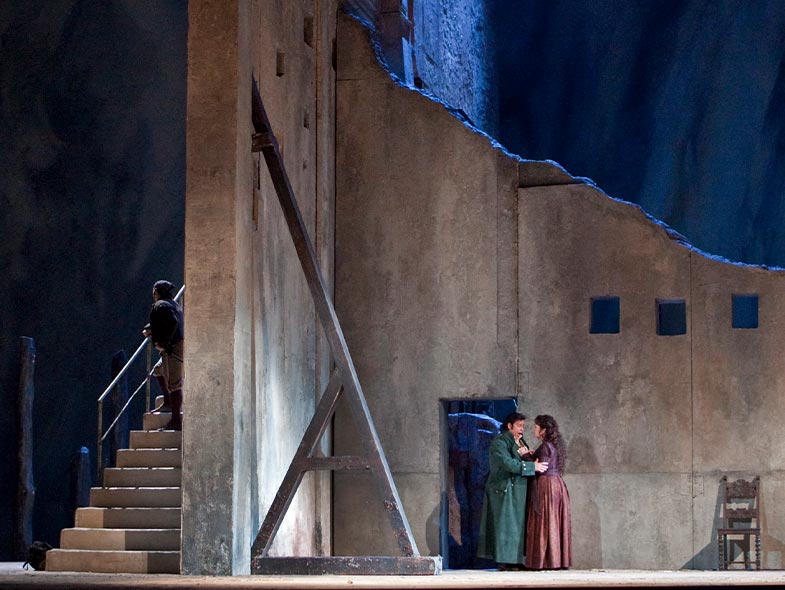 The opera is originally set in northern Spain in the early 15th century, during a time of prolonged civil war. Audiences of the Romantic era understood civil war as a sort of societal schizophrenia, in which individuals could be easily torn apart, both physically and psychologically, by shifting fortunes and conflicted loyalties. The Met's production places the action during the Peninsular War (1808–1814), when Spain and its allies were fighting the forces of Napoleon.
Music
Verdi's score for Il Trovatore perfectly expresses the extreme nature of the drama at hand. Throughout the opera, the use of melody is as uninhibited as the emotions of the protagonists. But that melody often appears to be as disturbed as the situations it portrays: Much of the score is written in uneven meters (such as 3/4 or 6/8), and even those segments that are set in common 4/4 time have vigorous counter-rhythms fighting against any sense of symmetry. Beyond the rhythmic irregularities, another feature of the score is the heavy use of minor keys in almost all of the main arias.