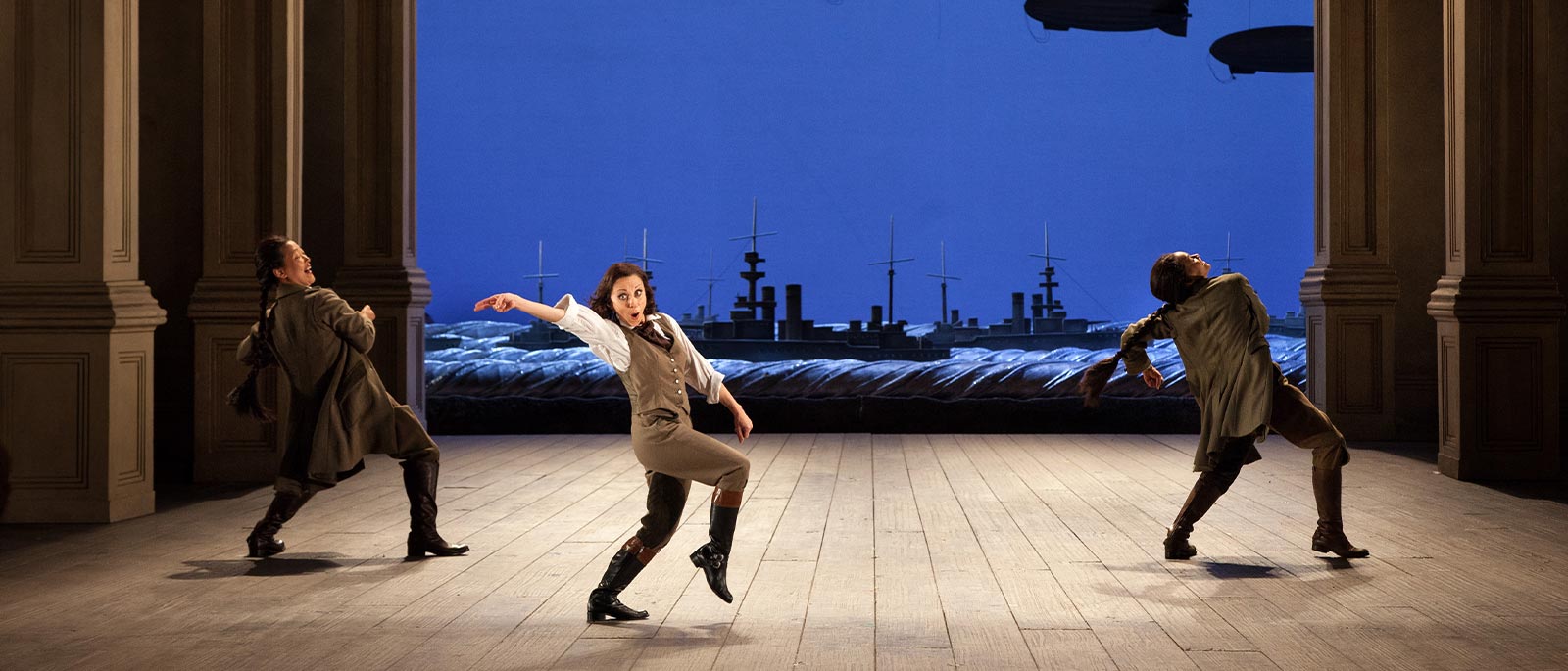 GEORGE FRIDERIC HANDEL
Giulio Cesare
All exchange fees will be waived for tickets purchased in the 2020–21 season.
Overview
All performances Giulio Cesare originally announced remain on the schedule, but some curtain times have changed. Please see individual dates below for updated curtain times.
One of the Met's most inventive productions, Sir David McVicar's vibrant Bollywood-inspired take on Handel's Baroque masterpiece transports the tale of Julius Caesar and Cleopatra to the age of British imperialism. Countertenor Iestyn Davies portrays the most powerful man in the world, opposite rising soprano Kristina Mkhitaryan as the world's most alluring queen. On the heels of his show-stopping performance in Akhnaten, countertenor Anthony Roth Costanzo portrays another Egyptian ruler—Ptolemy, Cleopatra's brother—and mezzo-sopranos Karen Cargill and Kate Lindsey round out the exceptional cast. Harry Bicket conducts.
Production owned by Glyndebourne Festival Opera
Production a gift of the Arthur F. and Alice E. Adams Charitable Foundation, in memory of William B. Warren, former Co-Trustee and Governor of the Foundation; and the Mercedes T. Bass Charitable Corporation
Additional funding from The Annenberg Foundation, and the National Endowment for the Arts
Revival a gift of C. Graham Berwind, III
Cast
Select a date from the dropdown to filter cast by date of performance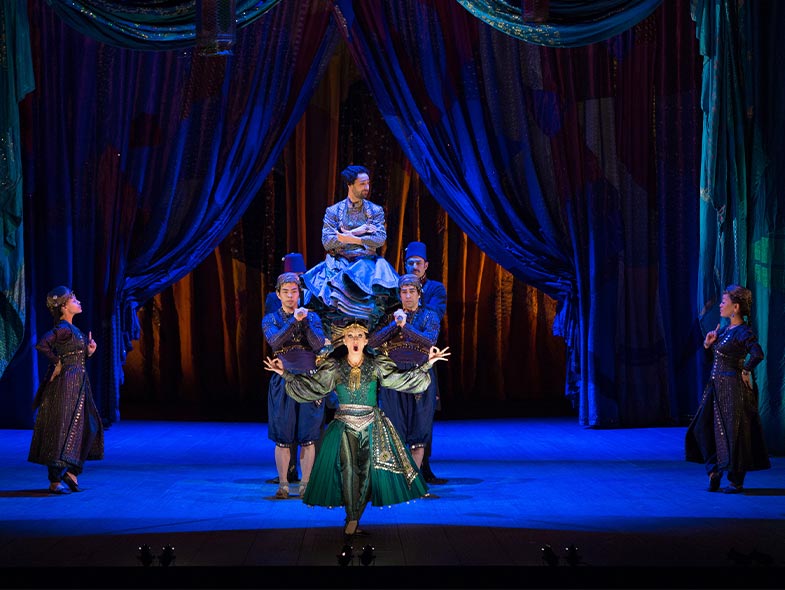 World Premiere: King's Theatre, London, 1724
Handel's most popular opera—both in his own lifetime and today—depicts the momentous meeting of Julius Caesar and Cleopatra, Queen of Egypt. This grand and ancient subject might suggest a vast, Cecil B. DeMille-style epic, but Handel's operatic masterpiece takes the opposite approach. The opera explores the inner lives of larger-than-life characters with insight and elegance in a score full of arresting subtleties, dreamy trance-like melodies, and vocal heroics.
Creators
George Frideric Handel (1685–1759) was born in Germany, trained extensively in the music capitals of Italy, and spent most of his brilliant career in London. While his great choral and orchestral works have remained extraordinarily popular up to the present day, his theatrical creations, which were instrumental in introducing Italian opera to the British public. The libretto for Giulio Cesare—adapted from earlier texts that had served as the basis of successful operas in Italy—was created by Nicola Francesco Haym (1678–1729), a writer, theater manager, cellist, and composer in his own right.
PRODUCTION
Sir David McVicar
SET DESIGNER
Robert Jones
COSTUME DESIGNER
Brigitte Reiffenstuel
LIGHTING DESIGNER
Paule Constable
CHOREOGRAPHER
Andrew George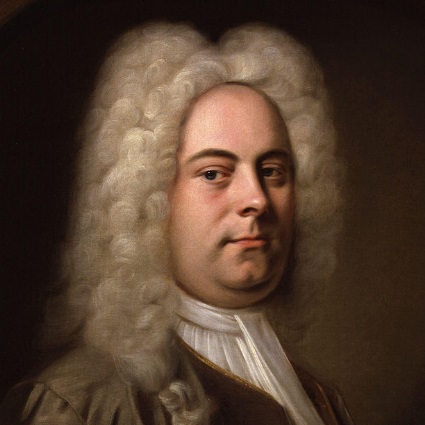 Composer
George Frideric Handel
Setting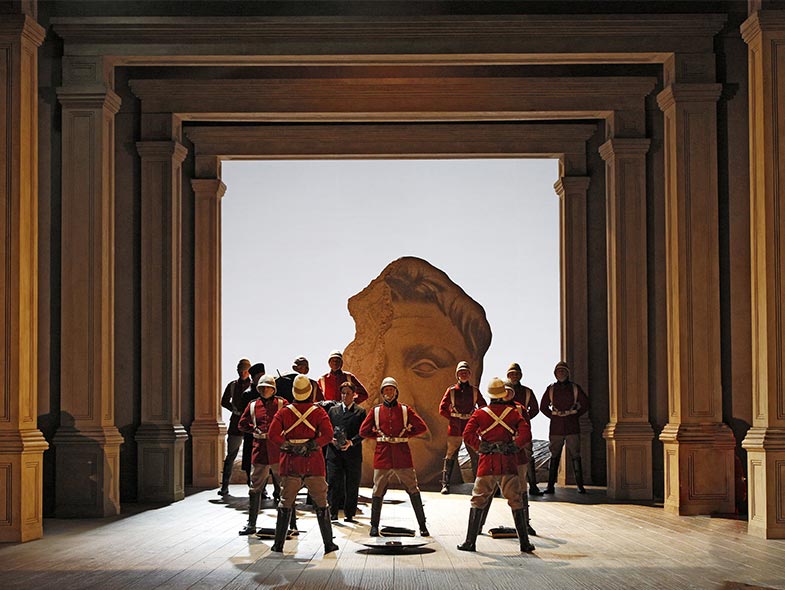 The story of the opera is loosely based on the encounter of Julius Caesar and Cleopatra in 48 BCE in cosmopolitan Alexandria, then the capital of Egypt. This defining historical moment has captured the artistic imaginations of everyone from Shakespeare to Hollywood filmmakers, and the legend of a leader who was superhuman in intelligence and skill has persisted through the ages. With a nod to the British Colonial period, the Met's production transfers the action to a more modern environment, without placing it in a specific time setting.
Music
The orchestra in Giulio Cesare is smaller than those of later Baroque operas, and the musical and dramatic messages are conveyed with more economy than later composers used—but with no loss of richness or emotion. However fascinating the orchestral details may be, though, the drama and beauty of Handel's score are conveyed chiefly by the singers. The solo arias that make up the majority of the score, then, are commentaries on the action, deliberately stopping dramatic time in order to explore a given moment, idea, or feeling in great depth and from every possible artistic and emotional angle.