Single tickets go on sale to the general public on June 23 at noon.
Patrons and 2019–20 Subscribers are eligible to purchase single tickets now. Please login to access your benefits.
Member Priority week (for $150 Supporting level and above) begins on June 16 at noon.
Overview
Berlioz's compelling take on the Faust legend returns to the Met stage for the first time in a decade, with an ideal trio of stars. High-flying tenor Bryan Hymel sings the doomed and besotted Faust, opposite dazzling mezzo-soprano Elīna Garanča as the forsaken Marguerite and bass Ildar Abdrazakov as the malevolent Méphistophélès. Edward Gardner conducts Robert Lepage's visual feast of a production.
In collaboration with Ex Machina
This production was reconceived for the Metropolitan Opera and is based on a co-production of the Saito Kinen Festival and the Opéra National de Paris.
Production a gift of Mr. and Mrs. Howard Solomon
Additional funding from the Gramma Fisher Foundation, Marshalltown, Iowa, and Robert L. Turner, in memory of his father, Bert S. Turner
Revival a gift of Rolex
Languages
Languages sung in
La Damnation de Faust
Titles
Title languages displayed for
La Damnation de Faust
Met Titles In
Timeline
Timeline for the show,
La Damnation de Faust
Estimated Run Time
2 hrs 40 mins
House Opens

Parts I & II

57 mins

Intermission

33 mins

Parts III, IV, & Epilogue

70 mins

Opera Ends
Cast
Select a date from the dropdown to filter cast by date of performance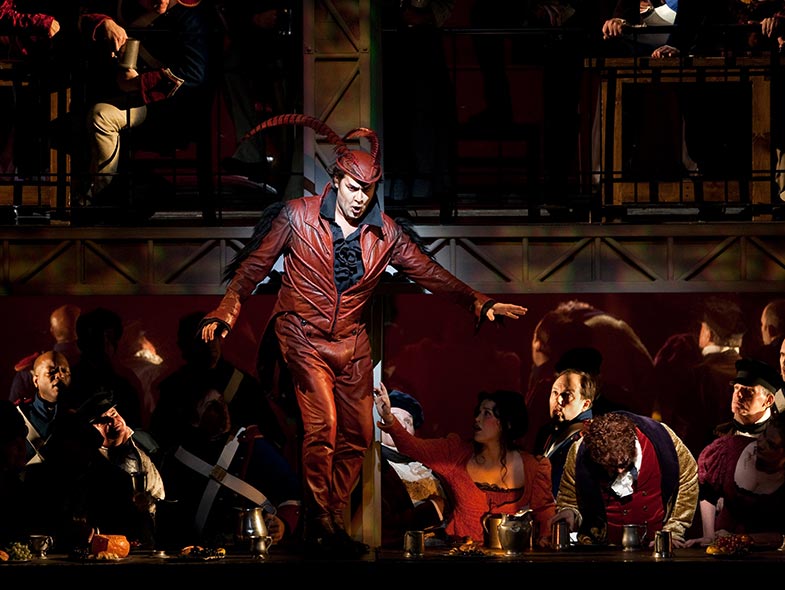 World Premiere: Opéra-Comique, Paris, 1846. Berlioz's magnificent exploration of the Faust legend is a unique operatic journey. The visionary French composer was inspired by a bold translation of Goethe's dramatic poem Faust and produced a monumental and bewildering musical work that, like the masterpiece on which it's based, defies easy categorization. Conceived at various times as a free-form oratorio and as an opera, La Damnation de Faust is both intimate and grandiose, exquisitely beautiful and blaringly rugged, hugely ambitious, and presciently cinematic.
Creators
Hector Berlioz (1803–1869), a French composer, conductor, music critic, and essayist, was a colossus of 19th-century musical life. More celebrated as a conductor and writer in his own day, his uninhibited reviews and articles for journals of his time make for lively reading even today. Johann Wolfgang von Goethe (1749–1832), whose Faust served as the inspiration for Berlioz's opera, is regarded as the preeminent figure of German literature.
ASSOCIATE DIRECTOR
Neilson Vignola
SET DESIGNER
Carl Fillion
COSTUME DESIGNER
Karin Erskine
LIGHTING DESIGNER
Sonoyo Nishikawa
INTERACTIVE VIDEO DESIGNER
Holger Förterer
IMAGE DESIGNER
Boris Firquet
CHOREOGRAPHERS
Johanne Madore and Alain Gauthier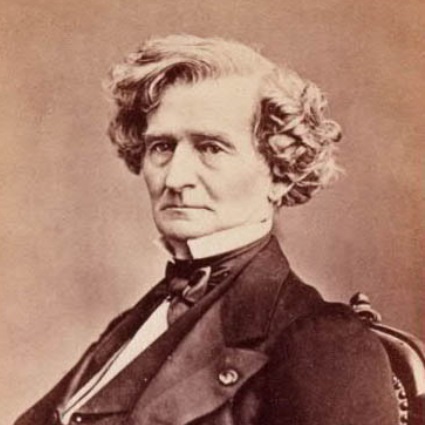 Setting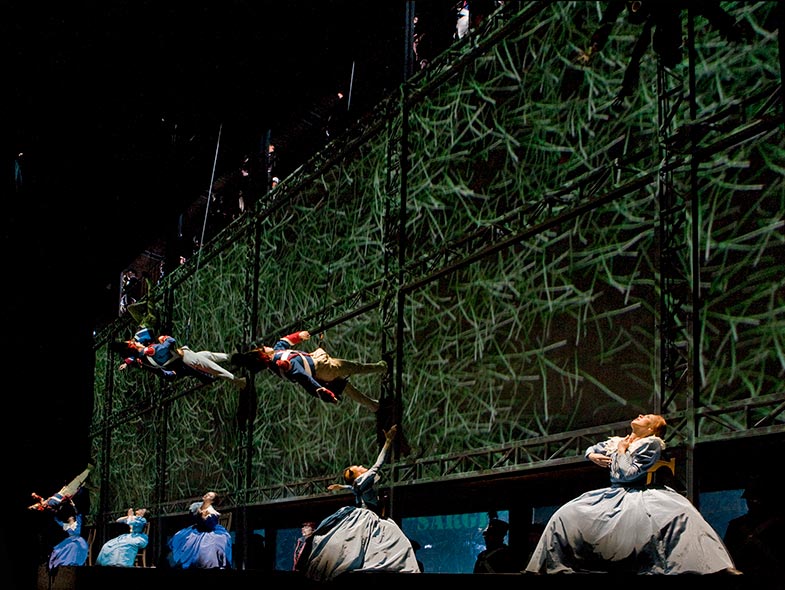 The opera generally follows Goethe's settings of the story, with familiar locales in Germany (the city of Leipzig and the banks of the River Elbe, among others) and the abyss of the demons. Berlioz added his own touches, most notably by setting the opening scene on the plains of Hungary.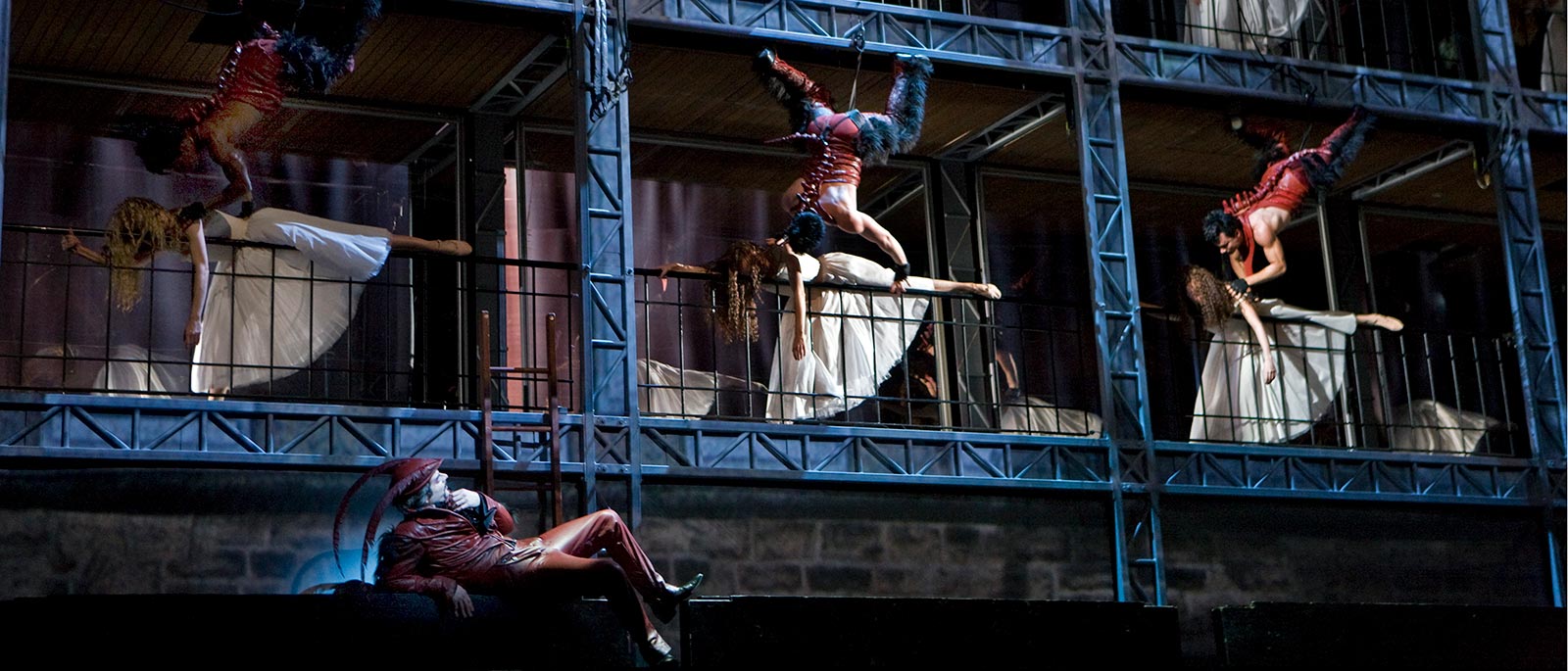 Music
Berlioz's score is as fragmented, wild, and imaginative as the dramatic poem it depicts. Yet for all the massive effects and unusual yet transcendent moments that have impressed (or offended) critics and audiences from Berlioz's time to our own, the opera achieves some of its greatest moments through daring restraint.