This production ran: Sep 24 - Mar 28
This production is in the past.
Overview
Following triumphant performances in Aida and Adriana Lecouvreur earlier this season, mezzo-soprano Anita Rachvelishvili gives a "commanding … exhilarating" (New York Times) performance as the seductive Dalila, opposite tenor Gregory Kunde, who sings Samson with "strong, focused tone and … genuine nobility" (New York Times). Darko Tresnjak, who won a Tony Award for Best Direction of a Musical in 2014 for A Gentleman's Guide to Love & Murder, makes his Met debut directing a vivid staging of Saint-Saëns's biblical epic, featuring a monumental setting for the last-act Temple of Dagon, where the hero crushes his Philistine enemies. Sir Mark Elder conducts the first new Met production of the work in 20 years.
Production a gift of the Gramma Fisher Foundation, Marshalltown, Iowa, and H.M. Agnes Hsu-Tang, PhD. and Oscar Tang
Additional funding from The Walter and Leonore Annenberg Endowment Fund and William R. Miller
Languages
Languages sung in
Samson et Dalila
Titles
Title languages displayed for
Samson et Dalila
Met Titles In
Timeline
Timeline for the show,
Samson et Dalila
Estimated Run Time
3 hrs 20 mins
House Opens

Act I

46 mins

Intermission

37 mins

Act II

43 mins

Intermission

37 mins

Act III

37 mins

Opera Ends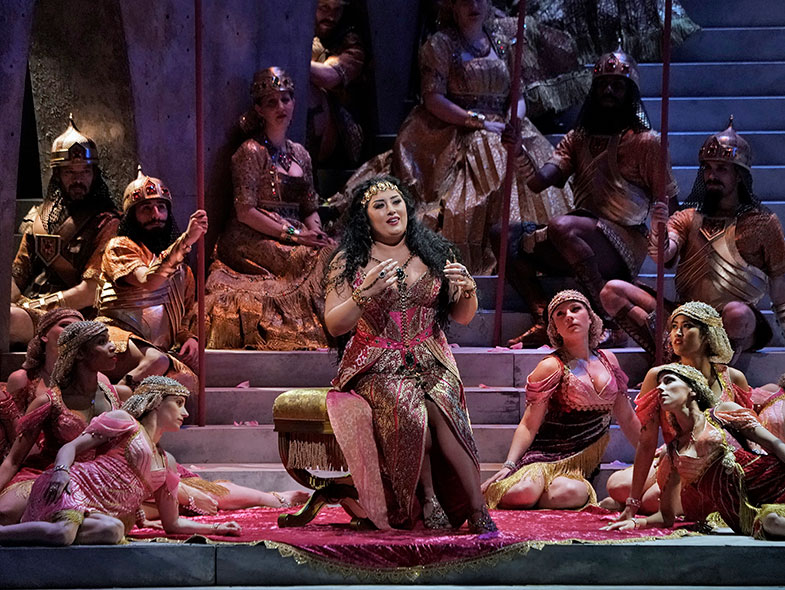 World Premiere: Grand Ducal Theater, Weimar, 1877. The source of this popular opera is a single chapter in the biblical Book of Judges, and the brevity of the tale did nothing to prevent it from becoming one of the world's great stories of love (or at least passion)—as well as the archetypal depiction of a man betrayed by an immoral woman. Saint-Saëns's opera, along with other artistic renderings across multiple genres, has had an important role in the popularization of this tale. Despite tepid success early on, Samson et Dalila eventually conquered the operatic world and has proven itself a magnificent evening of theater.
Creators
Camille Saint-Saëns (1835–1921) was a leading figure of the French musical world throughout his life, successful as an organist, pianist, conductor, and prominent music commentator in addition to his work as a composer. Ferdinand Lemaire (1832–1879), a poet who married a cousin of Saint-Saëns's and who made his most lasting impression with this work, contributed the libretto.
PRODUCTION
Darko Tresnjak
SET DESIGNER
Alexander Dodge
COSTUME DESIGNER
Linda Cho
LIGHTING DESIGNER
Donald Holder
CHOREOGRAPHER
Austin McCormick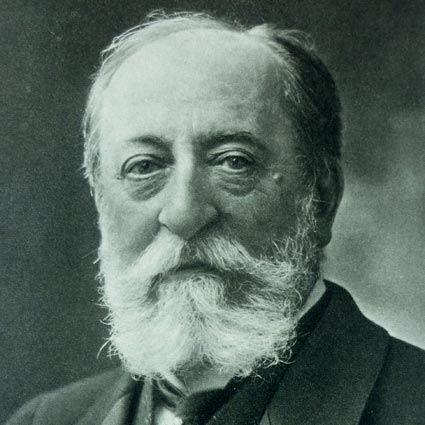 Composer
Camille Saint-Saëns
Setting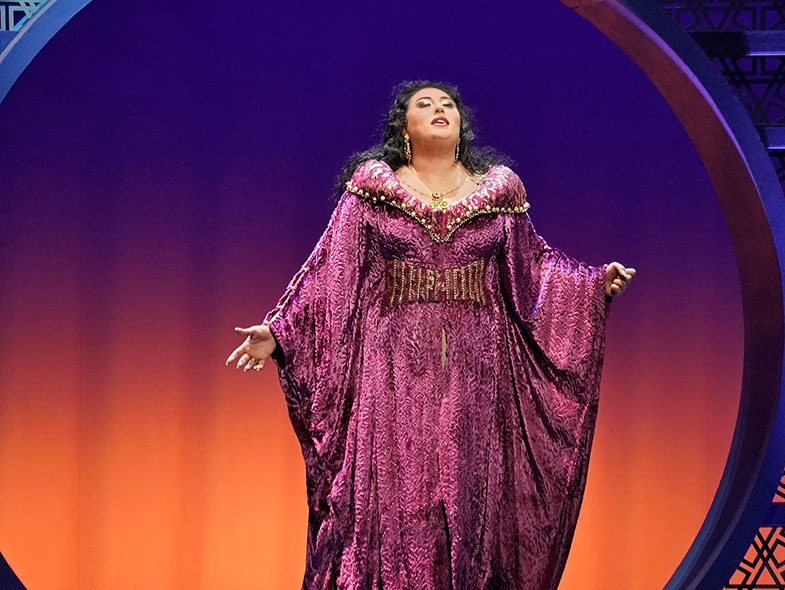 The opera, like the biblical tale, takes place in the city of Gaza, a capital of ancient Philistia, and in the Valley of Sorek, in the foothill country toward Jerusalem. The time is around 1150 BCE.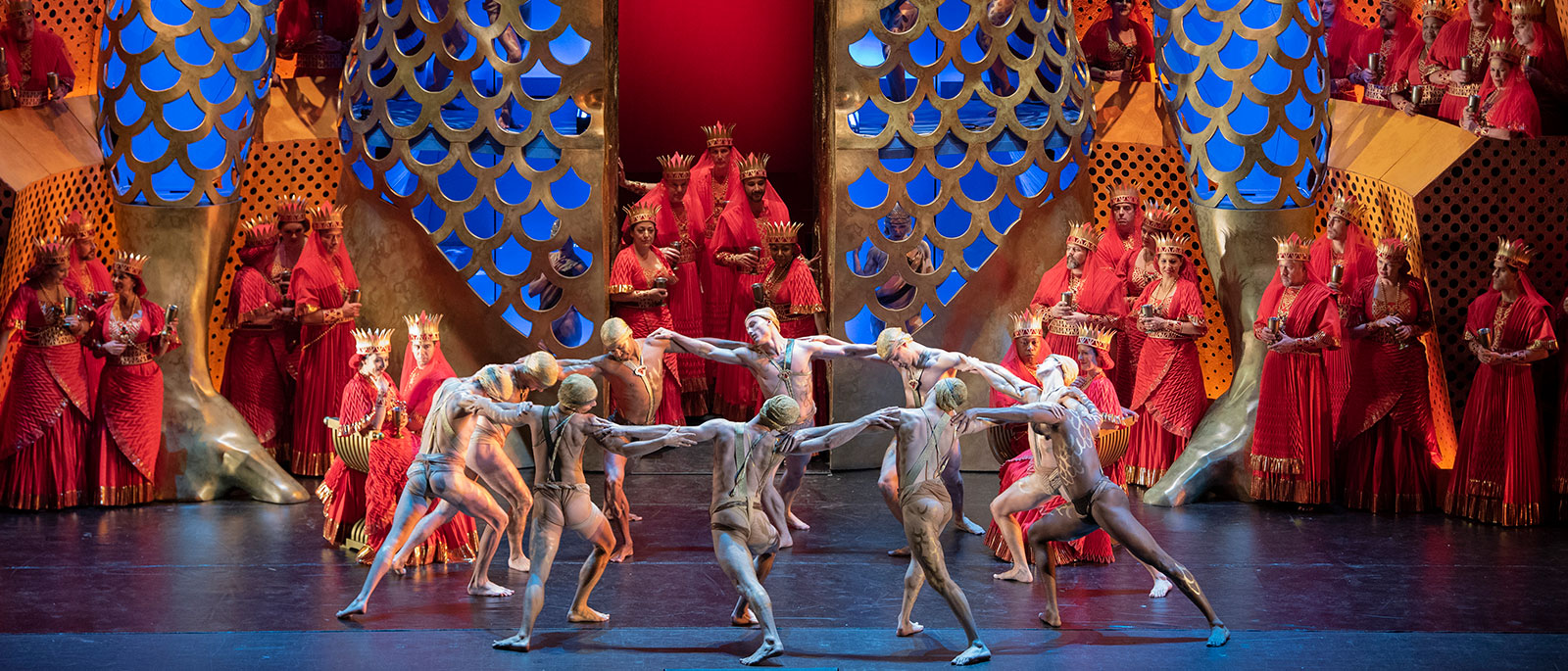 Music
The score of this opera teems over with color and dramatic aptitude and is a worthy compendium of Saint-Saëns's diversified genius. Portions of the opera, including Dalila's seduction aria "Mon coeur s'ouvre à ta voix" and the extraordinary ballet sequence in the final scene—the Bacchanale—are known well beyond the opera house. Throughout the work, the score brilliantly animates all the powerful and diverse colors in the iconic story, from the lurid to the exotic, the crass, the sensual, and even the sublimely spiritual.