This production ran: Nov 14 - Dec 8
This production is in the past.
Overview
Penny Woolcock's breathtaking production, a highlight of the 2015–16 season, makes its much awaited return with an all-star cast. Soprano Pretty Yende is the beautiful priestess Leïla, with tenor Javier Camarena and baritone Alexander Birch Elliott as rivals for her forbidden love. Emmanuel Villaume conducts Bizet's sensual score.
Co-production originally created by English National Opera
Production a gift of the Gramma Fisher Foundation, Marshalltown, Iowa
Additional funding from The Annenberg Foundation; Mr. William R. Miller, in memory of Irene D. Miller; and American Express
Languages
Languages sung in
Les Pêcheurs de Perles
Titles
Title languages displayed for
Les Pêcheurs de Perles
Met Titles In
Timeline
Timeline for the show,
Les Pêcheurs de Perles
Estimated Run Time
2 hrs 27 mins
House Opens

Act I

48 mins

Intermission

30 mins

Act II & III

69 mins

Opera Ends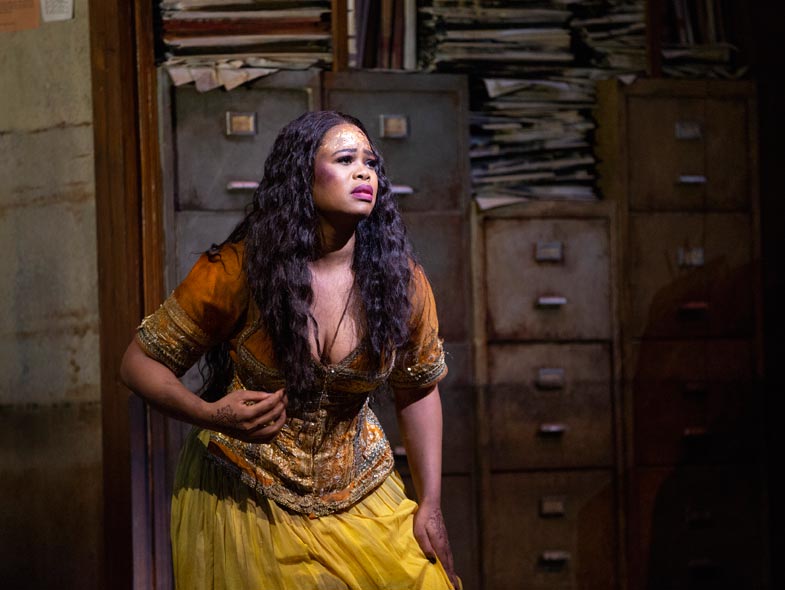 World Premiere: Théâtre Lyrique, Paris, 1863. Few operas can match the sheer lyric beauty of Bizet's youthful Les Pêcheurs de Perles. Critics at the time were not in favor of it—the composer was accused, bafflingly, of imitating both Verdi and Wagner—but the audience was swept up in the ravishing score tinged with the allure of a mythical South Asian setting. The opera employs the same blend of exoticism and eroticism that would find such indelible expression in Bizet's subsequent masterpiece, Carmen, but the sensual scope of the music is perhaps even wider in the earlier work with its deliberately vague setting.
Creators
French composer Georges Bizet (1838–1875) was known as a brilliant student and prodigy, but his works only found lasting success after his untimely death. His final opera, Carmen, which premiered to very mixed reactions three months before he died, became a hit shortly afterward and is acknowledged today as one of opera's greatest achievements. Eugène Cormon (1810–1903) was the pen name of Pierre-Étienne Piestre, a French dramatist and prolific librettist. His collaborator on Les Pêcheurs de Perles was Michel Carré (1821–1872), who also co-created the libretti to Gounod's Faust and Roméo et Juliette and the play that formed the basis for Offenbach's Les Contes d'Hoffmann.
PRODUCTION
Penny Woolcock
COSTUME DESIGNER
Kevin Pollard
LIGHTING DESIGNER
Jen Schriever
PROJECTION DESIGN
59 Productions
MOVEMENT DIRECTOR
Andrew Dawson
REVIVAL STAGE DIRECTOR
Stephen Pickover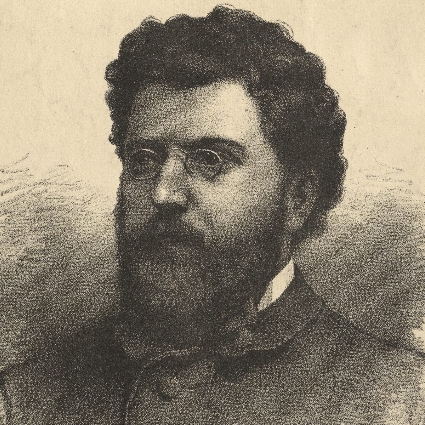 Setting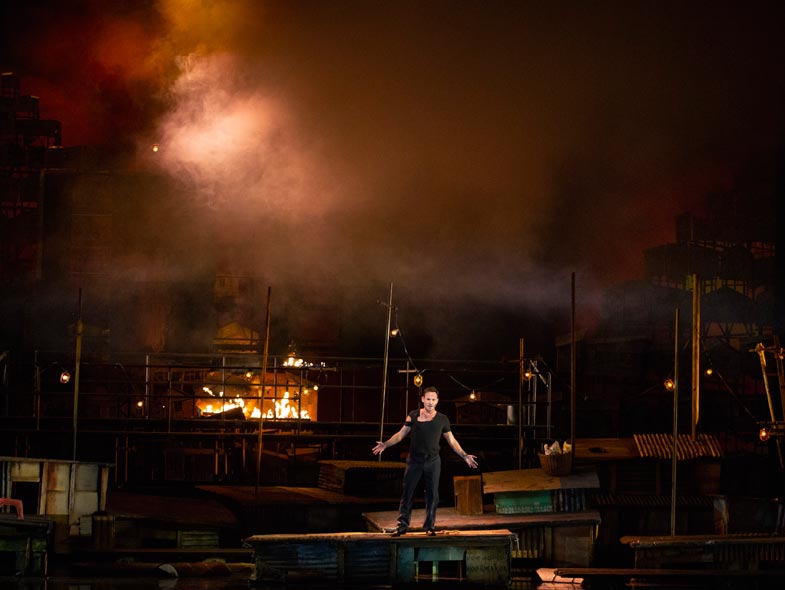 The opera is originally set in Ceylon (modern Sri Lanka) in non-historic "ancient times," signifying an exotic land with a mythical and romantic aura. The Met's production places the action in an unspecified locale in the Far East.
Articles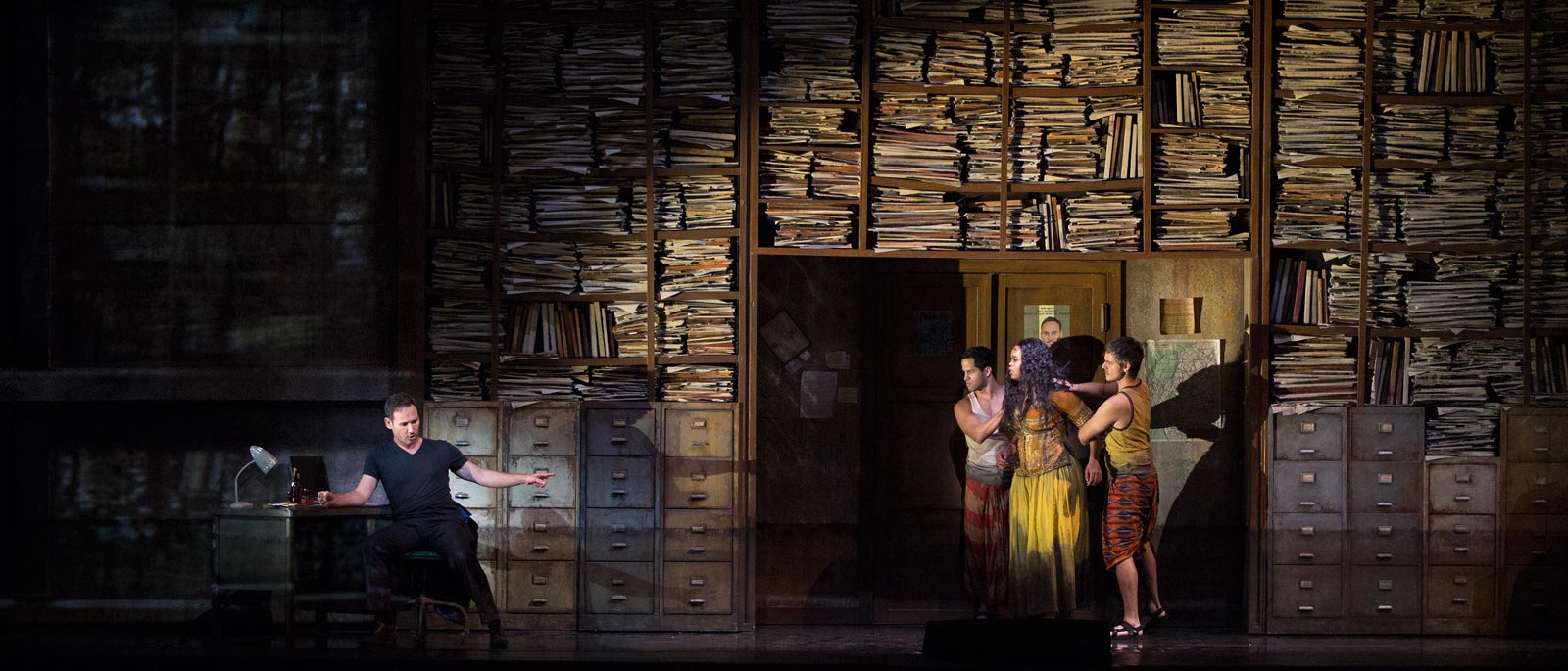 Music
In addition to its striking lyrical expression, the score is filled with surprising and delightful features throughout. The important role of the chorus is evident from the opening number. The orchestral writing is equally sophisticated, especially in the subtle touches of instrumentation, but the highest honors of the score must go to the remarkable solos and duets that have made the opera impossible to forget. The most famous moment in the work comes with the justly celebrated duet between the tenor and baritone, the ravishing "Au fond du temple saint" in Act I.