This production ran: Feb 7 - Mar 2
This production is in the past.
Overview
Tenor Javier Camarena and soprano Pretty Yende team up for a feast of bel canto vocal fireworks—including the show-stopping tenor aria "Ah! Mes amis … Pour mon âme," with its nine high Cs. Alessandro Corbelli and Maurizio Muraro trade off as the comic Sergeant Sulpice, with mezzo-soprano Stephanie Blythe as the outlandish Marquise of Berkenfield. And in an exciting piece of casting, stage and screen icon Kathleen Turner makes her Met debut in the speaking role of the Duchess of Krakenthorp. Enrique Mazzola conducts.
A co-production of the Metropolitan Opera; the Royal Opera House, Covent Garden, London; and the Wiener Staatsoper, Vienna
Production a gift of The Annenberg Foundation
Revival a gift of Mrs. Jayne Wrightsman
Languages
Languages sung in
La Fille du Régiment
Titles
Title languages displayed for
La Fille du Régiment
Met Titles In
Timeline
Timeline for the show,
La Fille du Régiment
Estimated Run Time
2 hrs 35 mins
House Opens

Act I

77 mins

Intermission

28 mins

Act II

50 mins

Opera Ends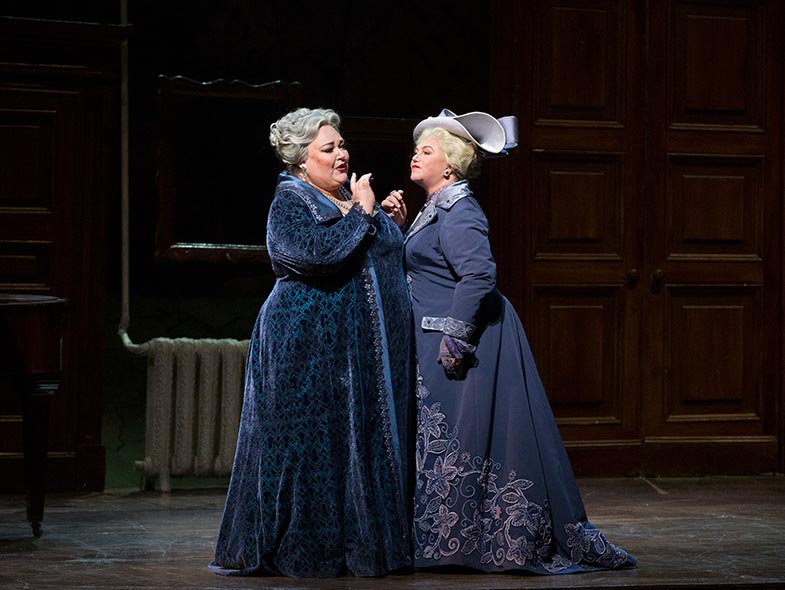 World Premiere: Opéra Comique, Paris, 1840. This frothy comedy mixes humor with a rush of buoyant melody and notorious vocal challenges. The story concerns a young orphan girl raised by an army regiment as their mascot and begins at the moment of her first stirrings of love. Complications (and comedy) ensue when her true identity is discovered. The action is startlingly simple and unencumbered by intricate subplots, allowing the full charm of the characters and their virtuosic music to come across in an uninhibited way.
Creators
Bergamo-born Gaetano Donizetti (1797–1848) composed about 75 operas, plus orchestral and chamber music, in a career abbreviated by mental illness and premature death. Apart from the ever-popular Lucia di Lammermoor and the comic gems L'Elisir d'Amore and Don Pasquale, most of his works disappeared from public view after his death. But critical and popular opinion of his huge opus has grown considerably over the past 50 years. The librettist Jules-Henri Vernoy de Saint-Georges (1799–1875) was a dramatist and the manager of the Opéra Comique. He also wrote the libretto for the enduringly popular ballet Giselle and was a frequent collaborator of the most successful theatrical personalities of his day.
SET DESIGNER
Chantal Thomas
COSTUME DESIGNER
Laurent Pelly
LIGHTING DESIGNER
Joël Adam
CHOREOGRAPHER
Laura Scozzi
ASSOCIATE DIRECTOR / DIALOGUE
Agathe Mélinand
REVIVAL STAGE DIRECTOR
Christian Räth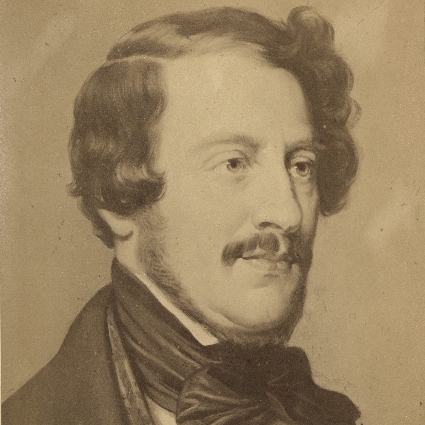 Composer
Gaetano Donizetti
Articles
Setting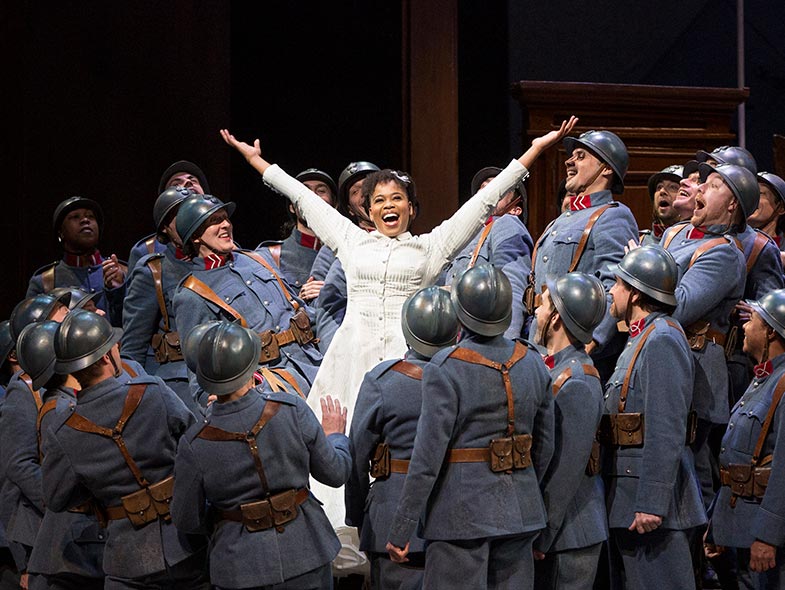 The opera is set in the Tyrol, a picturesque mountain landscape. The Met's production places the action during the First World War.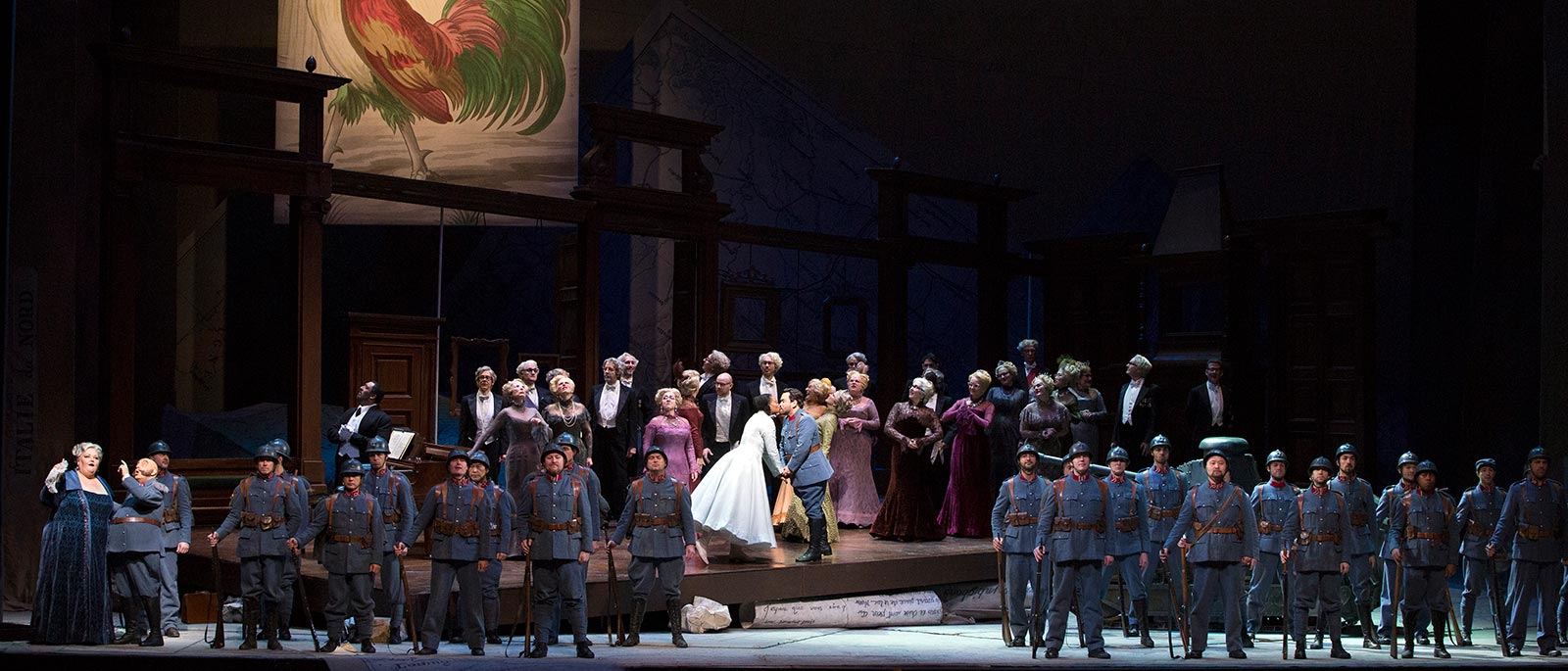 Music
Donizetti's score is a deft combination of jaunty military tunes, brisk comic numbers, enormously graceful ensembles and vocal solos, and sparkling arias. Not many singers have the technical ability and theatrical presence to deliver the famous fireworks arias (notably the soprano's Act I "Chacun le sait" and the tenor's Act I "Ah! Mes amis," with its notorious nine high Cs). Just as important as these, however, are the lyric beauty and pathos of the slower melodic gems (the soprano's "Il faut partir" in Act I and the tenor's "Pour me rapprocher de Marie" in Act II).