This production ran: Oct 4 - Oct 27
This production is in the past.
Overview
Soprano Eva-Maria Westbroek sings Puccini's gun-slinging heroine in this romantic epic of the Wild West, with the heralded return of tenor Jonas Kaufmann in the role of the outlaw she loves. Tenor Yusif Eyvazov also sings some performances. Baritone Željko Lučić is the vigilante sheriff Jack Rance, and Marco Armiliato conducts.
Production a gift of The Sybil B. Harrington Endowment Fund
Revival a gift of Rolex
Languages
Languages sung in
La Fanciulla del West
Titles
Title languages displayed for
La Fanciulla del West
Met Titles In
English
German
Spanish
Italian
Timeline
Timeline for the show,
La Fanciulla del West
Estimated Run Time
3 hrs 33 mins
House Opens

Act I

59 mins

Intermission

41 mins

Act II

48 mins

Intermission

38 mins

Act III

27 mins

Opera Ends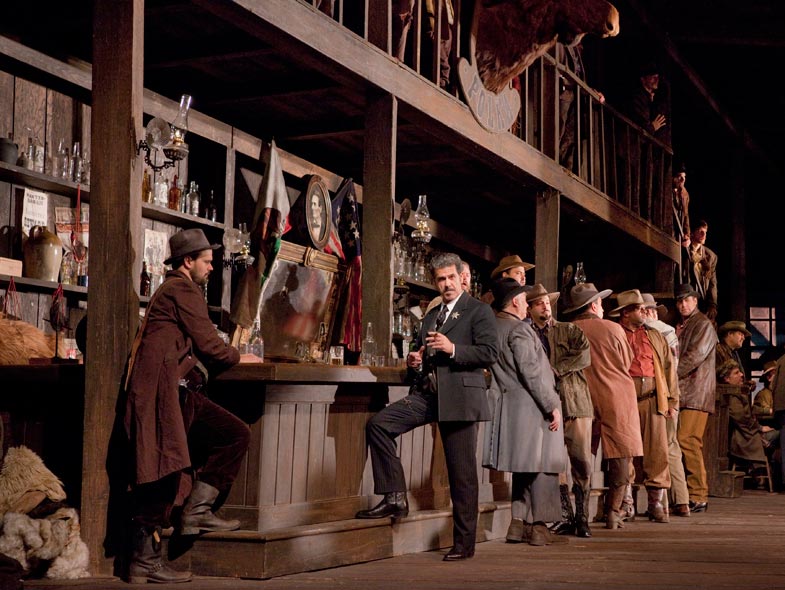 World Premiere: Metropolitan Opera, New York, 1910. Puccini's "American" opera, based on David Belasco's play The Girl of the Golden West, had its glamorous and highly publicized world premiere at the Metropolitan Opera, with the composer in the audience. The drama is set during the California Gold Rush, and the girl of the title is one of Puccini's most appealing heroines—a strong, independent woman determined to win the man she loves. Although it fell out of favor with audiences for a few decades following its original success, Fanciulla has rebounded in popularity in recent years and is now counted among Puccini's best works.
Creators
Giacomo Puccini (1858–1924) was immensely popular in his own lifetime, and his mature works remain staples in the repertory of most of the world's opera companies. His operas are celebrated for their mastery of detail, sensitivity to everyday subjects, copious melody, and economy of expression. For the libretto of Fanciulla, Puccini's publisher recommended the services of Carlo Zangarini (1874–1943), whose mother came from Colorado and who was fluent in English. Puccini found much of Zangarini's work "truly beautiful" but was frustrated by how slowly he worked, so the author and journalist Guelfo Civinini (1873–1954) was brought in to collaborate. The source play, The Girl of the Golden West, was written and produced on Broadway by the American impresario David Belasco (1853–1931), who was also the author and producer of Madame Butterfly, which Puccini set just before Fanciulla.
PRODUCTION
Giancarlo del Monaco
SET & COSTUME DESIGNER
Michael Scott
LIGHTING DESIGNER
Gil Wechsler
REVIVAL STAGE DIRECTOR
Gregory Keller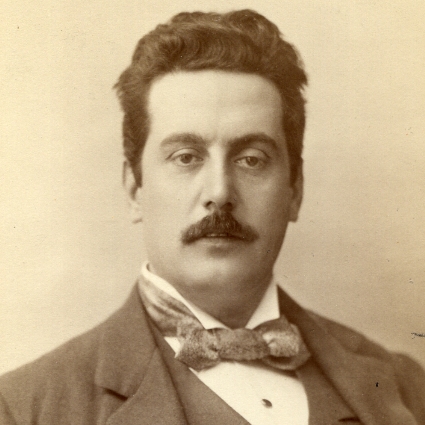 Setting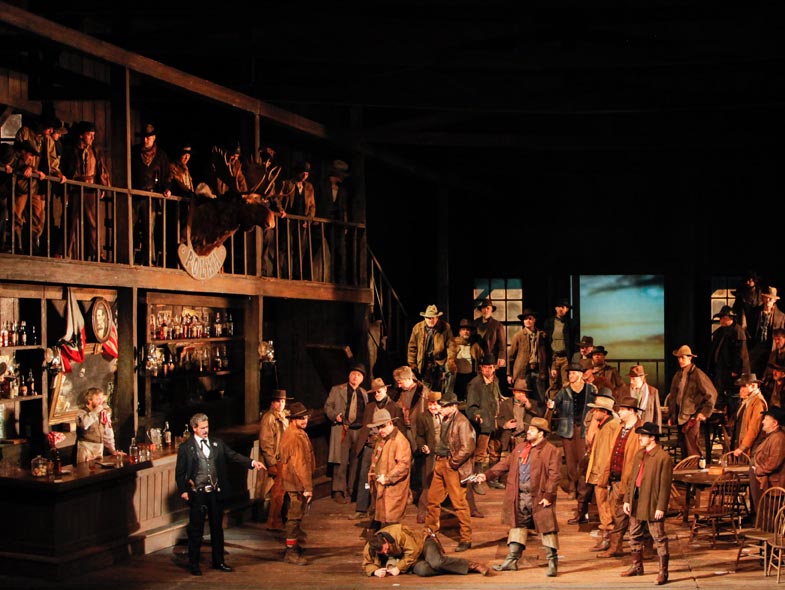 The opera unfolds in the mountains of California during the Gold Rush in 1849–50. The anachronistic presence of a Pony Express rider and a Wells Fargo agent would indicate a date after 1860, but historical accuracy is not the goal in this tale. Puccini was enchanted with Belasco's fictional setting, with its combination of mythic and grittily realistic elements.
Music
With his international stature assured, Puccini explored new musical horizons in Fanciulla: There are few arias (the tenor's Act III "Ch'ella mi creda" being a standout exception), and most of the music relies on changes of tone and color instead of set pieces. The orchestral sweep, appropriate to the dramatic landscape of the California mountains, is apparent in the first bars of the brief, explosive prelude. As in Tosca and Madama Butterfly, local musical elements are depicted for color, albeit sparingly. The score is marked by a preponderance of male voices, reflecting the title heroine's isolation in an almost all-male world.