This production ran: Jan 24 - Feb 14
This production is in the past.
Overview
Mariusz Treliński's haunting production of the pairing of Tchaikovsky's and Bartók's one-act operas makes its first return to the stage since its Met premiere in the 2014–15 season. Soprano Sonya Yoncheva—following her triumphant 2017–18 performances as Tosca—is the blind princess, Iolanta, who discovers love for the first time, opposite tenor Matthew Polenzani as the dashing knight Vaudémont. In Bartók's chilling Bluebeard's Castle, baritone Gerald Finley is the menacing Bluebeard, and soprano Angela Denoke is his initially unsuspecting new wife. Henrik Nánási conducts.
Co-production of the Metropolitan Opera and Teatr Wielki-Polish National Opera
Production a gift of Ambassador and Mrs. Nicholas F. Taubman
Additional funding from Mrs. Veronica Atkins; Dr. Magdalena Berenyi, in memory of Dr. Kalman Berenyi; and the National Endowment for the Arts
Languages
Languages sung in
Iolanta / Bluebeard's Castle
Titles
Title languages displayed for
Iolanta / Bluebeard's Castle
Met Titles In
Timeline
Timeline for the show,
Iolanta / Bluebeard's Castle
Estimated Run Time
3 hrs 9 mins
House Opens

Iolanta

92 mins

Intermission

37 mins

Bluebeard's Castle

60 mins

Opera Ends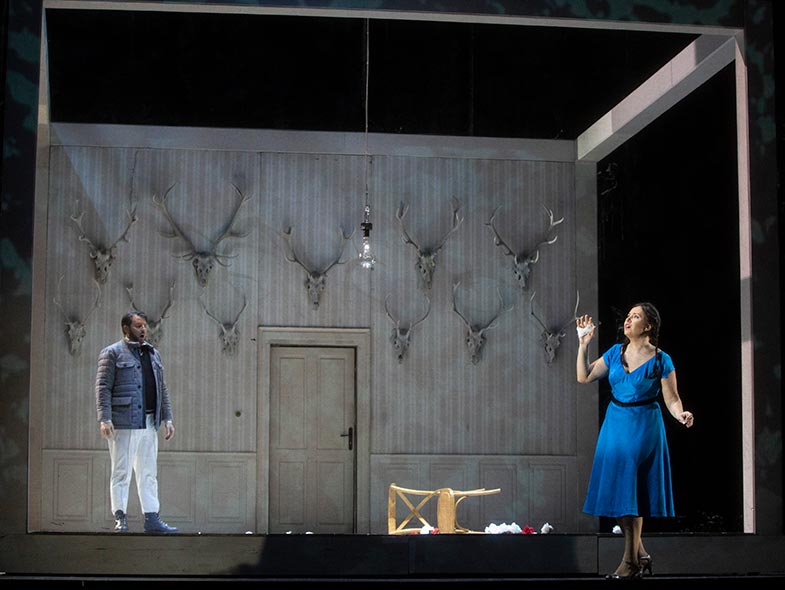 World Premiere: Mariinsky Theater, St. Petersburg, 1892; Royal Opera House, Budapest, 1918
Iolanta, Tchaikovsky's final opera was commissioned by St. Petersburg's Imperial Theatres as part of a double bill with a new ballet—which became The Nutcracker. Although Iolanta, unlike its companion piece, has remained relatively unknown outside of Russia, it is prime operatic Tchaikovsky and overdue for discovery by the world at large. Bluebeard's Castle is Bartók's only opera and is an intense psychological journey, a powerful drama of inner emotion, and a tour de force for two singers (and the orchestra). In it, the bride Judith prods Bluebeard to open seven doors, each of which reveals an aspect of Bluebeard's life, material possessions, and, by extension, his mind.
Creators
Pyotr Ilyich Tchaikovsky (1840–1893) enjoyed tremendous fame during his lifetime as a composer of symphonic music and ballets. Today, his operas have also achieved a steadily growing popularity, both in Russia and around the world. Béla Bartók (1881–1945) was a Hungarian composer and an important pioneer in the field of ethnomusicology. During the first decades of his life, he was better known for his work in collecting and analyzing folk music than for his own compositions.
PRODUCTION
Mariusz Trelinski
SET DESIGNER
Boris Kudlicka
COSTUME DESIGNER
Marek Adamski
LIGHTING DESIGNER
Marc Heinz
VIDEO PROJECTION DESIGNER
Bartek Macias
CHOREOGRAPHER
Tomasz Jan Wygoda
DRAMATURG
Piotr Gruszczynski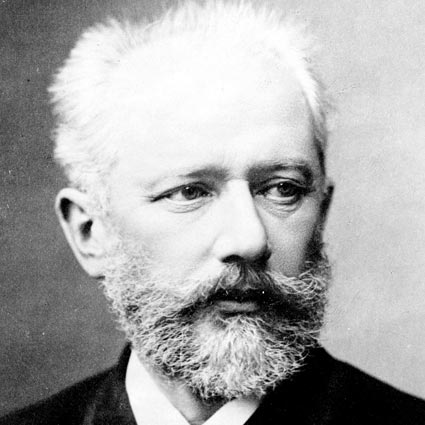 Composer
Pyotr Ilyich Tchaikovsky
Setting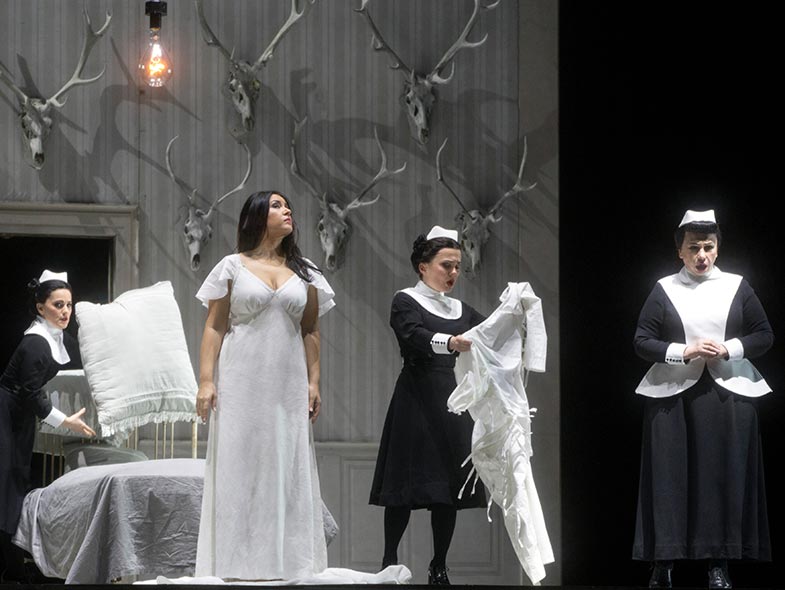 The Met's production of this double bill is set in an unspecified space visually inspired by the films noirs of the 1940s.
Articles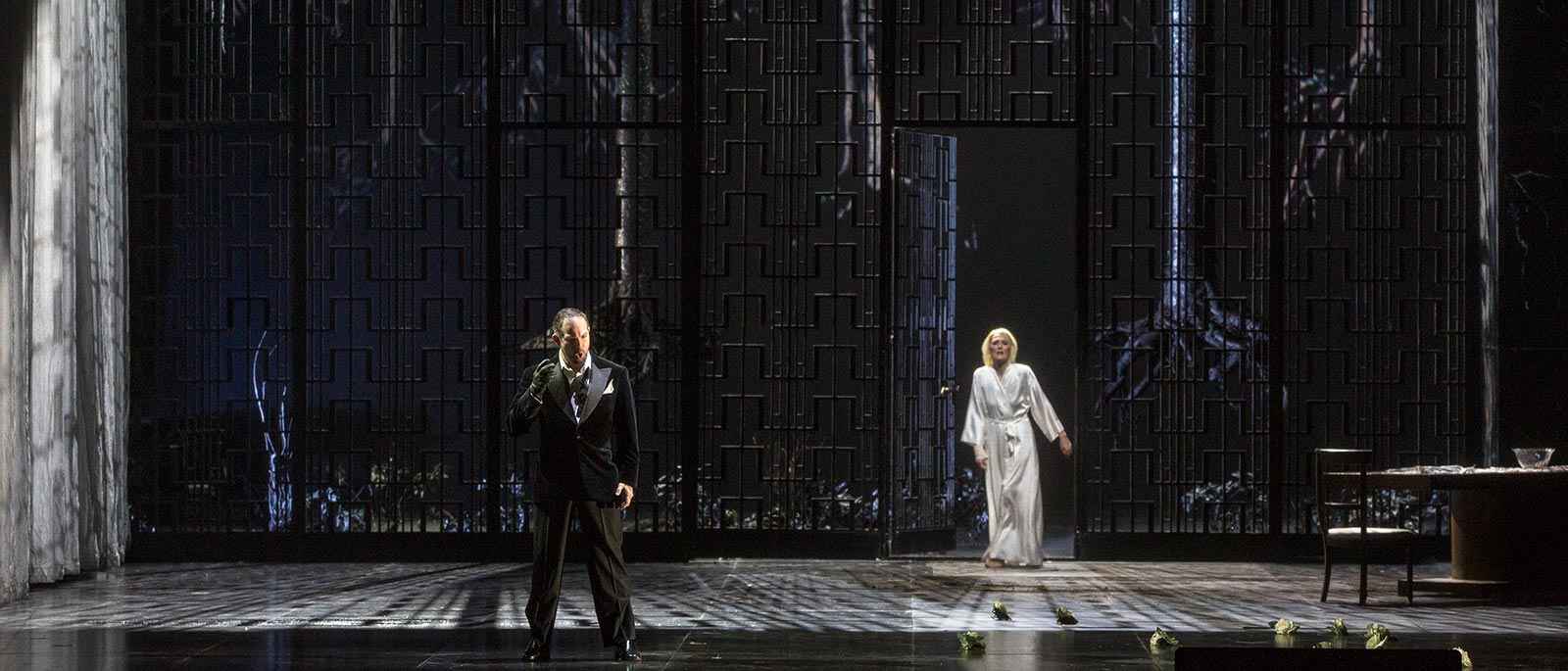 Music
The score of Iolanta contains a wealth of instantly recognizable Tchaikovskian melody, beginning with the opening scene and the title character's first solo. Reflecting the story's subject matter of blindness and vision, one of the score's most instantly notable features is its highly sophisticated use of colors in both the orchestral and the vocal writing. Musicologists delight in analyzing the score of Bluebeard's Castle, but the opera is remarkable for its ability to make a direct and powerful impression on anyone. The music is closely linked to the Hungarian text and yet gives it an acoustic power that transcends the strictly syntactic meaning.