This production ran: Nov 23 - Dec 15
This production is in the past.
Overview
Jack O'Brien's epic production of Puccini's triple bill features first-class casting: tenor Marcelo Álvarez and soprano Amber Wagner are the illicit lovers of Il Tabarro, with baritone George Gagnidze as the spurned husband; soprano Kristine Opolais sings the shattering title role of Suor Angelica, alongside mezzo-soprano Stephanie Blythe as the Principessa; and the ageless Plácido Domingo takes an unusual comedic turn in the baritone title role of Gianni Schicchi. The performances mark the centennial of the work's world premiere at the Met. Bertrand de Billy conducts.
Production a gift of Karen and Kevin Kennedy
Additional funding from the Gramma Fisher Foundation, Marshalltown, Iowa, The Annenberg Foundation, Hermione Foundation, Mr. and Mrs. William R. Miller, and M. Beverly and Robert G. Bartner
Languages
Languages sung in
Il Trittico
Titles
Title languages displayed for
Il Trittico
Met Titles In
English
German
Spanish
Italian
Timeline
Timeline for the show,
Il Trittico
Estimated Run Time
3 hrs 46 mins
House Opens

Act I

51 mins

Intermission

38 mins

Act II

54 mins

Intermission

33 mins

Act III

50 mins

Opera Ends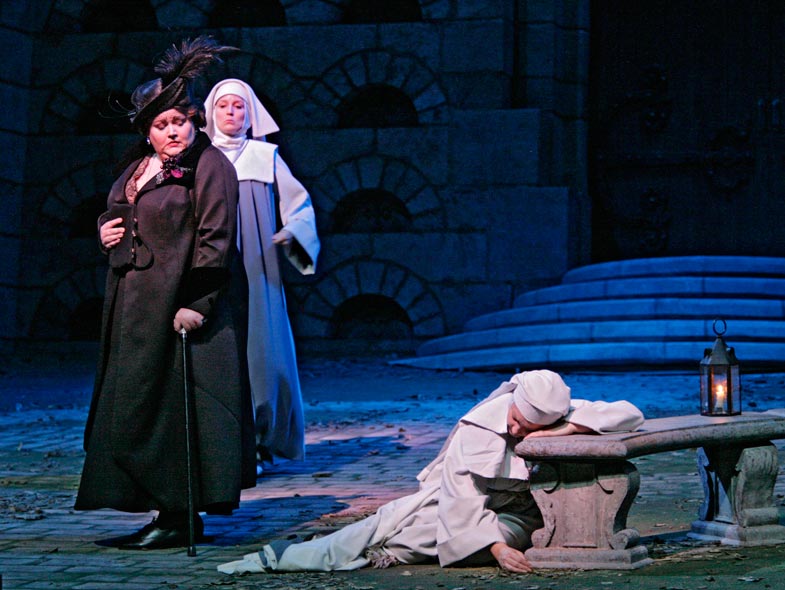 World Premiere: Metropolitan Opera, New York, 1918. Puccini's longest and most ambitious evening of theater, Il Trittico is a triptych of one-act operas that together present a unique overview of the human experience. Taking a cue from Dante's Divine Comedy and its three-part journey from desperation to light, Il Trittico offers a modern glimpse at ordinary people striving for happiness. Shortly after the work's world premiere at the Met, opera companies began producing the individual operas in combination with short works by other composers, but the full evening as Puccini intended it is a profound and refreshing experience from one of opera's most popular composers.
Creators
Giacomo Puccini (1858–1924) was immensely popular in his own lifetime, and his mature works continue to form the foundation of almost every opera company in the world. His operas are celebrated for their mastery of detail, sensitivity to everyday subjects, copious melody, and economy of expression. Giuseppe Adami (1878–1946) provided Puccini with the libretto for La Rondine and Il Tabarro and would later work with him on Turandot. Giovacchino Forzano (1884–1970) was a stage director and playwright as well as a prolific librettist. His libretti for Suor Angelica and Gianni Schicchi are original creations.
SET DESIGNER
Douglas W. Schmidt
COSTUME DESIGNER
Jess Goldstein
LIGHTING DESIGNERS
Jules Fisher, Peggy Eisenhauer
REVIVAL STAGE DIRECTORS
J. Knighten Smit, Gregory Keller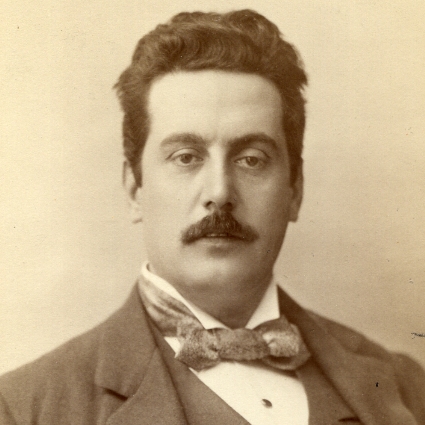 Setting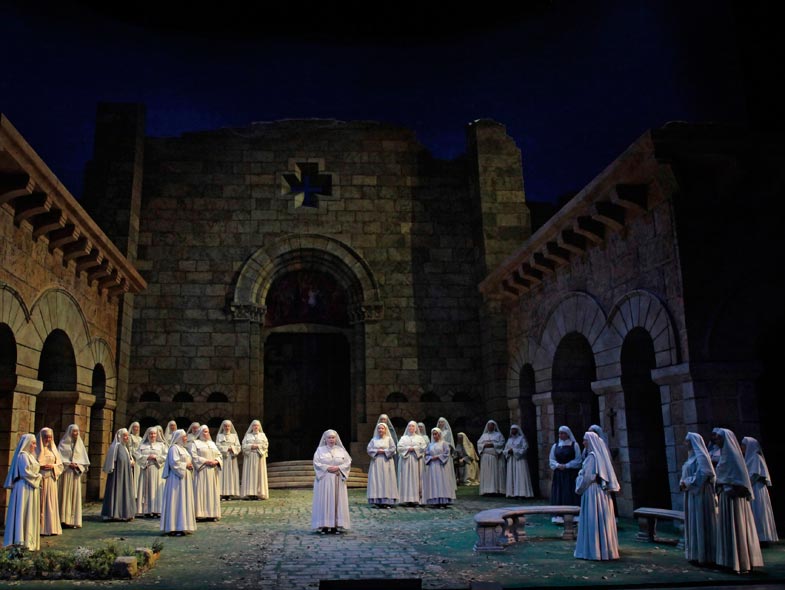 Il Tabarro begins among laborers on the Seine River in Paris. The bleak lives depicted form an implicit critique of contemporary reality. Suor Angelica takes place entirely within an austere convent. Gianni Schicchi is set in Florence, cradle of ideas and urban testament to the power of human creativity. In this production, the three operas are set in three different decades of the 20th century.
Articles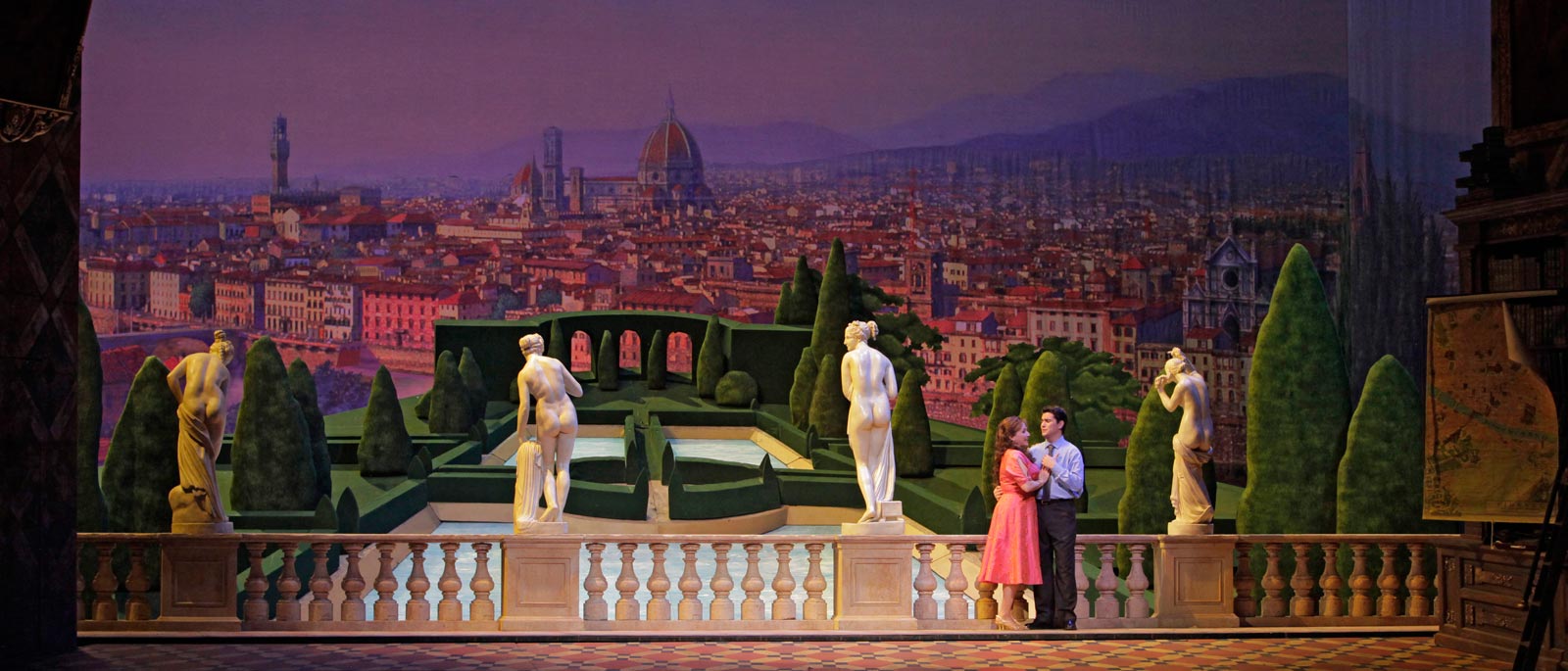 Music
By the time he composed Il Trittico, Puccini was eager to explore new modes of musical expression. In the baritone's impressive narrative in Il Tabarro, for example, the character stares into the river while his mind descends towards violence; the swirling waters, subtly depicted in the orchestra, act at once as scene painting and as psychological metaphor. Suor Angelica is a bold sonic experiment written exclusively for female voices. The title role is showcased in one of Puccini's most organic, yet heart-rending, narratives ("Senza mamma"). The score of Gianni Schicchi is the work of a mature genius: seamless music whose ideas form and vanish as blithely as thoughts. Puccini's gift for irresistible melody is also on display in the two discrete arias in Schicchi belonging to the young lovers.