This production ran: Dec 31 - Jan 26
This production is in the past.
Overview
"A pinnacle of a lifetime of opera-going … Anna Netrebko is the ultimate diva" (Observer) in the title role of the real-life French actress who dazzled 18th-century audiences with her on- and offstage passion. (Jennifer Rowley sings Adriana in the January 23 and 26 performances.) The soprano is joined by tenor Piotr Beczała, "in sterling form" (Financial Times) as Adriana's lover, Maurizio, as well as the "stupendous" (New York Times) mezzo-soprano Anita Rachvelishvili and baritone Ambrogio Maestri. Gianandrea Noseda conducts. Sir David McVicar's engrossing new staging sets the action in a working replica of a Baroque theater.
Co-Production of the Royal Opera House, Covent Garden, London; Gran Teatre del Liceu, Barcelona; Wiener Staatsoper; San Francisco Opera; and L'Opéra National de Paris
Production a gift of The Sybil B. Harrington Endowment Fund
Languages
Languages sung in
Adriana Lecouvreur
Titles
Title languages displayed for
Adriana Lecouvreur
Met Titles In
English
German
Spanish
Italian
Timeline
Timeline for the show,
Adriana Lecouvreur
Estimated Run Time
3 hrs 16 mins
House Opens

Act I & II

79 mins

Intermission

30 mins

Act III

28 mins

Intermission

25 mins

Act IV

35 mins

Opera Ends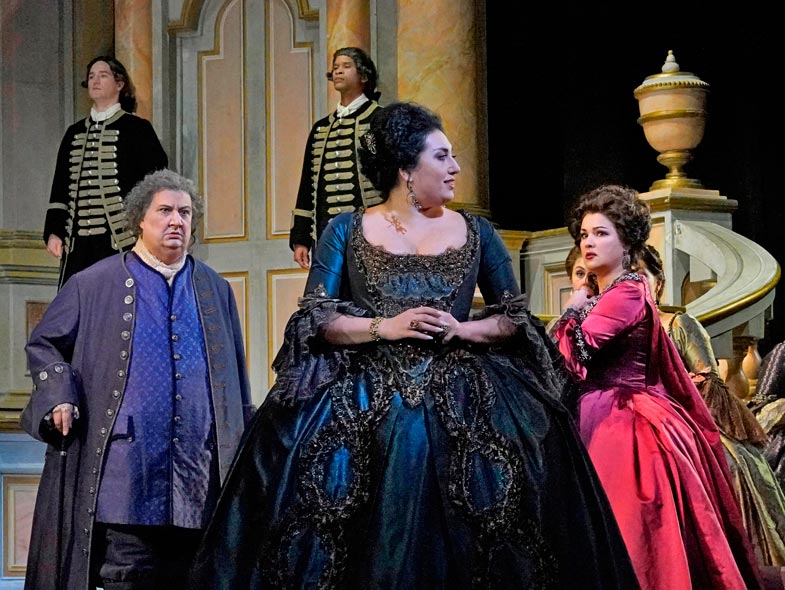 World Premiere: Teatro Lirico, Milan, 1902. Adriana Lecouvreur occupies a unique place in the repertory: largely dismissed by experts from its premiere to the present day yet cherished by its fans for the dramatic possibilities provided by the lead roles. The opera is a deft combination of frank emotionalism and flowing lyricism, with pseudo-historical spectacle. Based on a play by Eugène Scribe, the story was inspired by the real-life intrigues of famed actress Adrienne Lecouvreur and the legendary soldier—and lover—Maurice of Saxony. Cilea's operatic retelling quickly became a favorite of charismatic soloists. The title character in particular is a quintessential diva role.
Creators
Francesco Cilea (1866–1950) belonged to the generation of Italian composers that produced such greats as Puccini and Mascagni. Adriana Lecouvreur was his only big success with the public, though his opera L'Arlesiana also played for many years and is occasionally revived. Arturo Colautti (1851–1914), who transformed a play by French dramatist Eugène Scribe (1791–1861) into a libretto, was a poet, novelist, and creator of comedies.
PRODUCTION
Sir David McVicar
SET DESIGNER
Charles Edwards
COSTUME DESIGNER
Brigitte Reiffenstuel
LIGHTING DESIGNER
Adam Silverman
CHOREOGRAPHER
Andrew George
ASSOCIATE DIRECTOR
Justin Way
Setting
Adriana Lecouvreur unfolds in Paris in 1730. The setting reflects a nostalgia for the Rococo era that swept over Europe and the Americas around the turn of the last century when Cilea was composing, evident in other operas (for instance, Puccini's Manon Lescaut) and in architecture.
Articles
Music
The score of Adriana Lecouvreur relies on elegance and a deft weaving of themes rather than symphonic grandeur. There are nods to a neo-Rococo style, especially in Act III's dance sequences, but generally the score serves to showcase the singers. Lyricism abounds in the solos, particularly in the tenor's "La dolcissima effigie" in Act I and Adriana's Act I aria "Io son l'umile ancella," whose arching line and theme of the singer as "the humble handmaiden of the creative genius" have made it a soprano anthem of sorts.