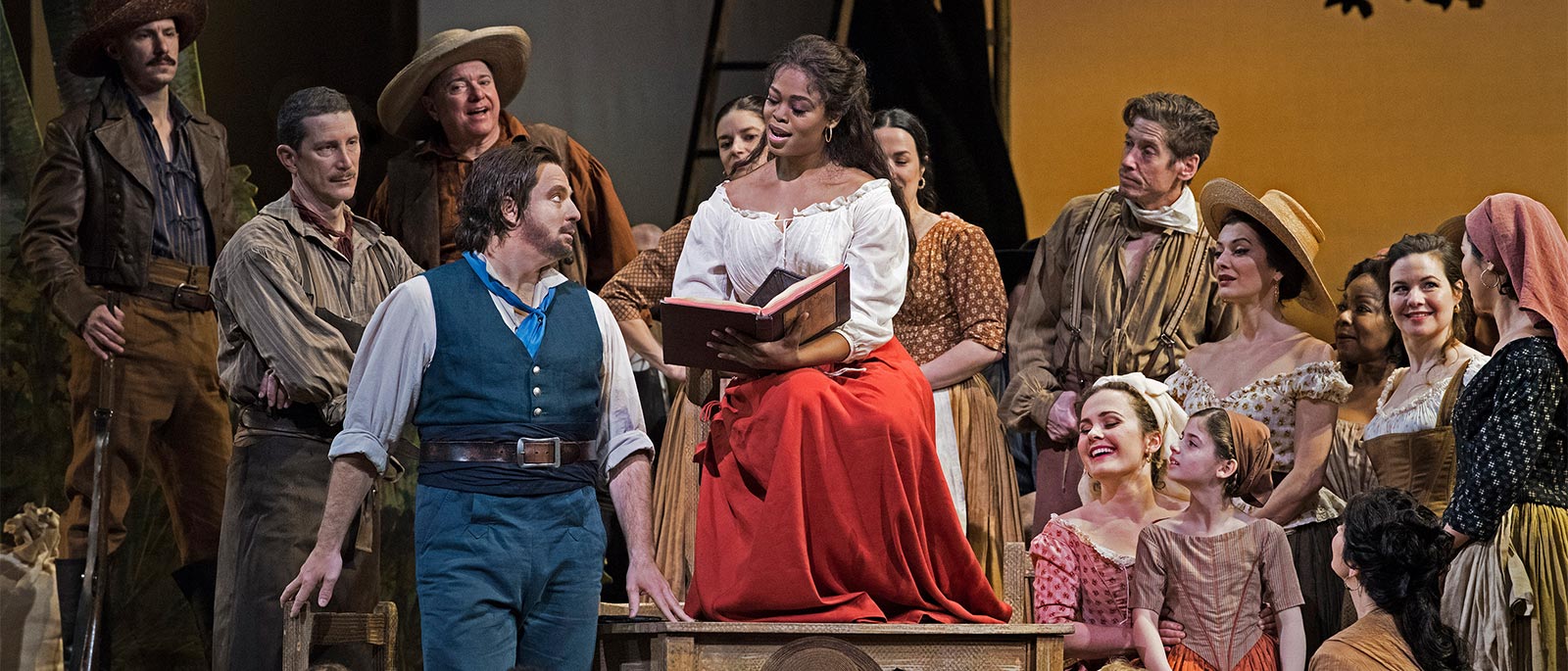 Virtual Honors Choir
Thank you for choosing to be a part of the Met's 2022-23 HD Live in Schools Virtual Honors Choir! Begun as a way to foster creative community during the first year of the COVID-19 pandemic, the Virtual Honors Choir invites students from HD Live in Schools partner districts across the country to showcase their talent by performing new arrangements of opera classics. On this page, you will find instructions for learning, recording, and uploading your part for this year's virtual performance, as well as recordings from previous years.
Introduction
This year we are asking you to perform the tender and heartbreaking aria "Una furtiva lagrima" from Donizetti's opera L'Elisir d'Amore. This piece is one of the most famous tenor arias in the opera repertoire, and we are excited to debut a new a cappella arrangement for all voice types.
Before taking a crack at "Una furtiva lagrima," listen to how great Met tenors have interpreted the aria.
Luciano Pavarotti
Excerpted from the Metropolitan Opera's broadcast of March 2, 1981.

Matthew Polenzani
Excerpted from the Metropolitan Opera's broadcast of February 10, 2018.
Instructions
What You'll Need
"Una furtiva lagrima" vocal score
"Una furtiva lagrima" click track
Headphones or ear buds for listening to click track while singing
Two devices, one to play the click track and one to record video and audio

What You Should Wear
Black top/shirt
No visible patterns
No visible logos
No visible design

Learning the Music
Carefully learn the aria from the sheet music provided. Accuracy is important, so take care to learn the music well. NOTE:

There are two measures of rest with click included on the practice track before the first measure on the song begins at measure 1.

There are no words in this arrangement, so sing with beautiful, Italianate vowels.
Cut-offs should be placed directly on the rest following a pitch.
Follow score markings precisely—breath marks, dynamics, etc. You do not need to sing fortissimo, even when a section is marked as such. A strong forte is more than sufficient for this recording.
Stay precisely with the click track, which does ritardando at spots.

Preparing the Performance
Find a quiet place to record. Be aware of all sounds in your space—lawn mowers, barking dogs, or loud fans can ruin your audio.
Find a well-lit area. If you're in a room with a window or lamp, stand facing the light so that your face is uniformly lit. Place the video/audio recording device at eye-level so that you are looking directly at the camera.
Record a short test video. Make sure that you are in the frame and that your audio is not distorted by loud singing. If your audio is buzzy or muffled, move the device further away from you and record another test.
Plug in your headphones so you can hear the click track but it does not make it into your video. We will not be able to use your submission if we hear more than just your voice in the recording.
If using a phone, use the back camera (i.e., not selfie mode) and place it in horizontal/landscape orientation. (The selfie camera is often lower quality.)

Recording the Video
Open the camera on your second device, begin recording, and confirm your face is well lit and within the frame.
Put on your headphones, click "play" on the click track, and sing along.
Smile! Engage your face throughout. Remember, this is a visual performance, too.
Look up at the beginning/end of phrases.
Do not stop recording after you stop singing! Wait until the click track has finished to stop your video.
Save your recording.
Watch and listen to your recording before submitting. Submit your best take. Don't worry if it's not perfect! It's a choir, not a solo.
Upload your video to the form linked below. Submission will require the signature of your guardian.
Submission
Submit your recordings by Friday, March 17 at 11:59pm EST.
Having trouble? We're here to help. Email Rae De Vine (rperez@metopera.org) with questions.