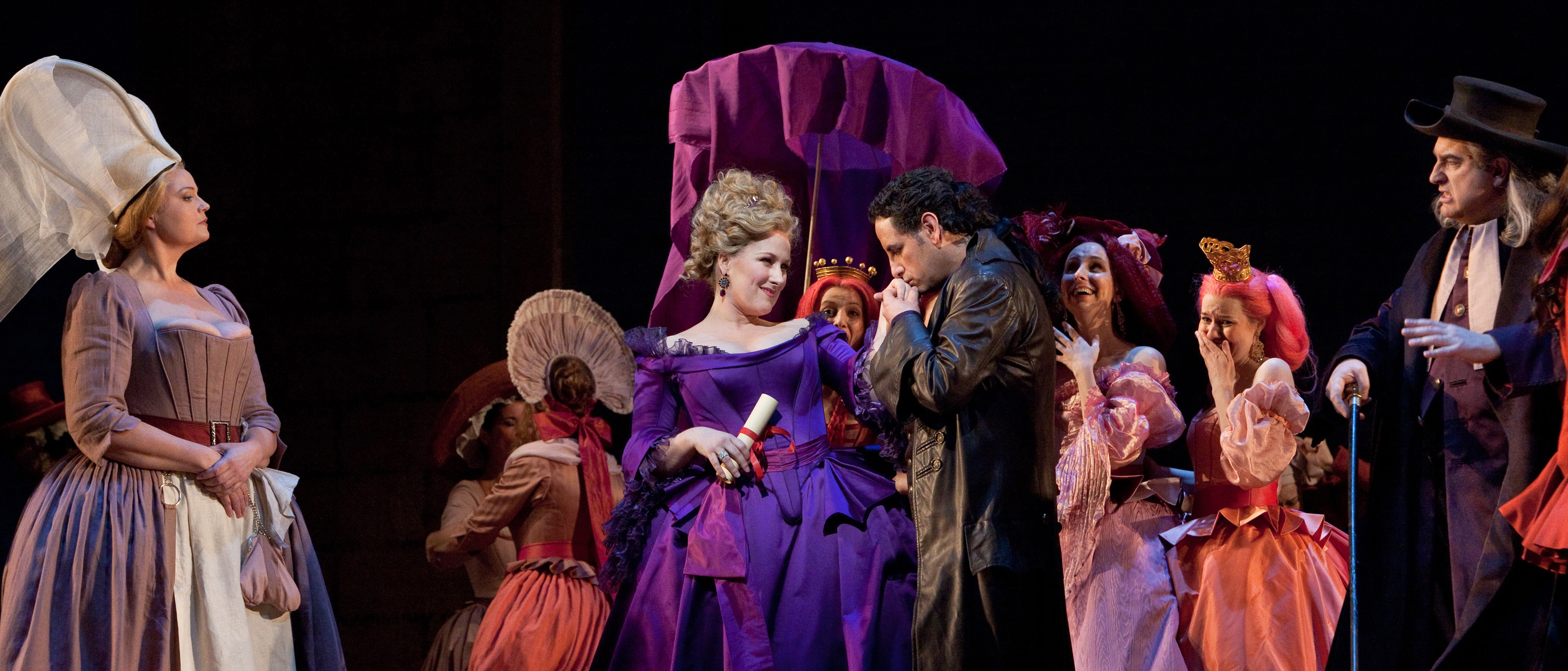 Rossini and Le Comte Ory
by Sophie Horrocks
1095
Pope Urban II initiates the First Crusade, a European conquest of the Holy Land, to forcefully establish Western power over Jerusalem, a city that had been under Islamic rule for several centuries but that held a symbolic place within the Christian tradition.
1785
Pierre-Antoine de la Place composes a comedic ballad—in the style of a medieval Crusader—about the adventures of the real-life 11th-century Count Ory.
1792
Gioachino Rossini is born on February 29 in Pesaro, Italy, into a family of musicians. Later, Rossini studies composition in Bologna and writes his first short opera in 1810.
1813
Rossini begins to gather international fame after the wild successes of his operas Tancredi and L'Italiana in Algeri (The Italian Girl in Algeria) in Italy, London, and New York.
1816
The vaudeville Le Comte Ory, a popular stage entertainment with dialogue and singing, premieres in Paris. Inspired by de la Place's ballad, the writers Eugène Scribe and Charles-Gaspard Delestre-Poirson introduce a new central love triangle between the titular count, the Countess Adèle, and the page Isolier.
1817
L'Italiana in Algeri is the first of many Rossini operas to be staged at the Théâtre Italien in Paris. Over the next seven years, Rossini fever sweeps through Paris as the operagoing public are enamored with his clamorous orchestration and intense vocal effects. Music critics frequently debate the distinctions between the musical forms, vocal styles, and harmonic languages of French operatic genres (grand opéra and opéra-comique) versus their Italian counterparts (opera buffa and opera seria). The concept of a separation between operatic "national" styles often leads to quarrels over the nature of musical taste that are more closely bound up with identity politics than with musical analysis.
1824
While in London, Rossini signs a contract with the French government to take on the management of the Théâtre Italien in Paris. His contract also includes engaging and coaching singers and composing new operas in both Italian (for the Théâtre Italien) and French (for the Académie Royale de Musique, now known as the Paris Opéra).
1825
After moving to Paris, Rossini premieres Il Viaggo a Rheims (The Journey to Rheims) at the Théâtre Italien on June 19. Based on Germaine de Stael's novel Corinne, the opera is an occasional piece written to mark the coronation of King Charles X and is not reprised after the initial performances.
1826
Rossini adapts his early opera Maometto II, written for a theater in Naples, into a French version for the Académie Royale de Musique with the new title Le Siège de Corinthe (The Siege of Corinth).
1827
Rossini is appointed to the new committee at the Académie Royale de Musique to improve operatic stage production and design. He continues to take an active part in the development of the Parisian operatic scene and premieres two more adaptations of his earlier works, but he has yet to compose a fully original French opera.
1828
On August 20, Rossini premieres Le Comte Ory, a two-act petit opéra based on the vaudeville, reusing some musical numbers from Il Viaggio a Rheims. The opera is an instant success thanks to Rossini's use of compositional influences blending opera buffa with opéra-comique and developments in his choral and orchestral writing to match the expanded forces of the Académie's company and musicians.
1829
Le Comte Ory is exported to the French provinces, Italy, and London. Rossini premieres his final opera, Guillaume Tell (William Tell), a five-act opera emblematic of the large-scale lyrical forms and spectacular visual effects of French grand opéra.
1830
The Théâtre d'Orléans presents the first American performances of Le Comte Ory on December 16 in New Orleans and then in New York on August 22, 1831. While international performances of Rossini's operas ensure his continued reputation, the composer enters a four-decade long retirement.
1868
Rossini dies at the age of 76 after recently having been awarded the prestigious Legion of Honour for his services to French music.
Sophie Horrocks is a doctoral student in musicology at Durham University (England). She previously worked in the Baylis education team at English National Opera.