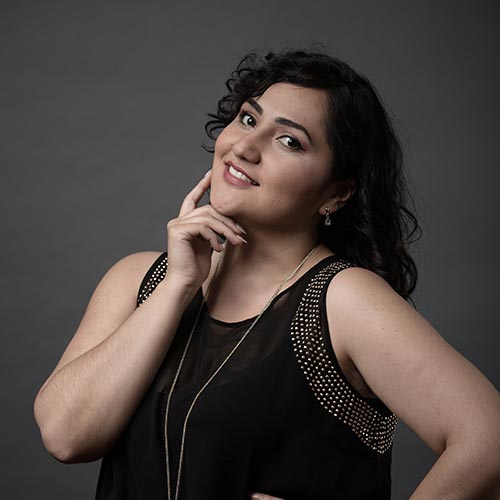 Soprano
Yunuet Laguna
This Season
Mexican soprano Yunuet Laguna is starting her third year of the Lindemann Young Artist Development Program at the Metropolitan Opera. This season, Yunuet will make her Met debut as Kate Pinkerton in Madama Butterfly.
Yunuet was a Filene Artist at Wolf Trap Opera in Summer 2020 and 2021, where she made her debut as Mimì in Puccini's La bohème, Maguelonne in Cendrillon by Pauline Viardot under the baton of Kelly Kuo, and Jeannette in Joseph Bologne's L'Amant Anonyme with the National Symphony Orchestra under the baton of Geoffrey McDonald
In September of 2019, she debuted with the Houston Symphony Orchestra where she performed a program of Spanish Zarzuelas during Hispanic Heritage Month. In December 2019 she made her New York City debut at the Metropolitan Opera Lindemann Patron Concert at the Peter Sharp Theater and in January 2020 had her debut with the New Jersey Symphony Orchestra under Maestro Xian Zhang.
She has been the recipient of multiple awards including first place at the 2019 Opera Index Competition and the 2020 Hildegard Behrens Foundation Prize. She is also the first Mexican soprano in history to participate in the prestigious Lindemann Young Artist Development Program.
Ms. Laguna was also the winner of the inaugural Metropolitan Opera Competition Mexico District auditions in San Miguel, Mexico and earned second place at the MONC Gulf Coast Region auditions in 2019. In the same year she was a finalist in the Sinaloa International Vocal Competition where she received a scholarship to attend the San Miguel de Allende Bel Canto Institute and in February of 2019, she was the winner of the Ana María Martinez Encouragement Award at the Houston Grand Opera competition.
Hometown
Zacatecas, Mexico
Met Debut
This Season
Repertory